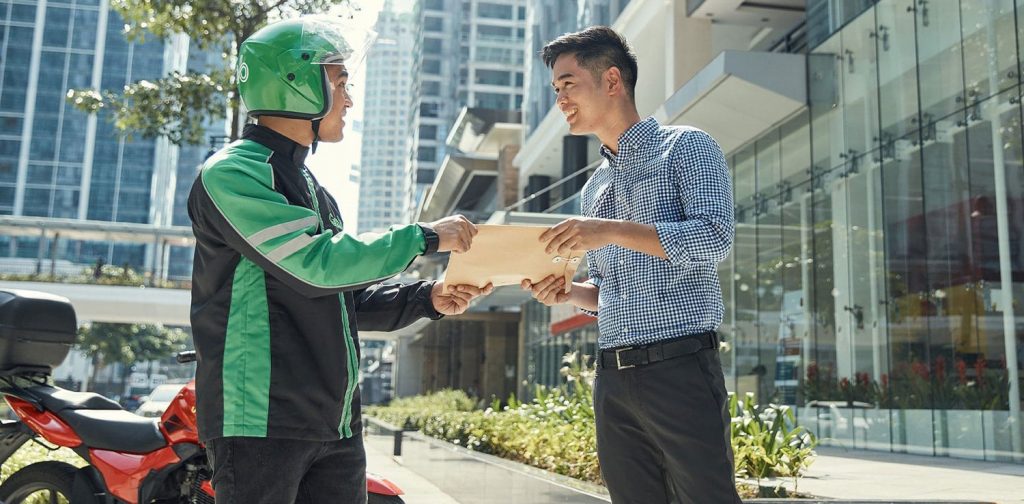 Grab Holdings Inc. is a multinational company established in 2012. Today, Grab is Southeast Asia's leading mobile technology company active in eight countries in the region. This company primarily operates in the Delivery, Mobility, and Financial Service segments.
In June 2021, Grab released its first Environment, Social and Governance (ESG) Report. This report adheres to Global Reporting Initiative (GRI) standards, unveiling their Sustainability Framework that covers several key material topics.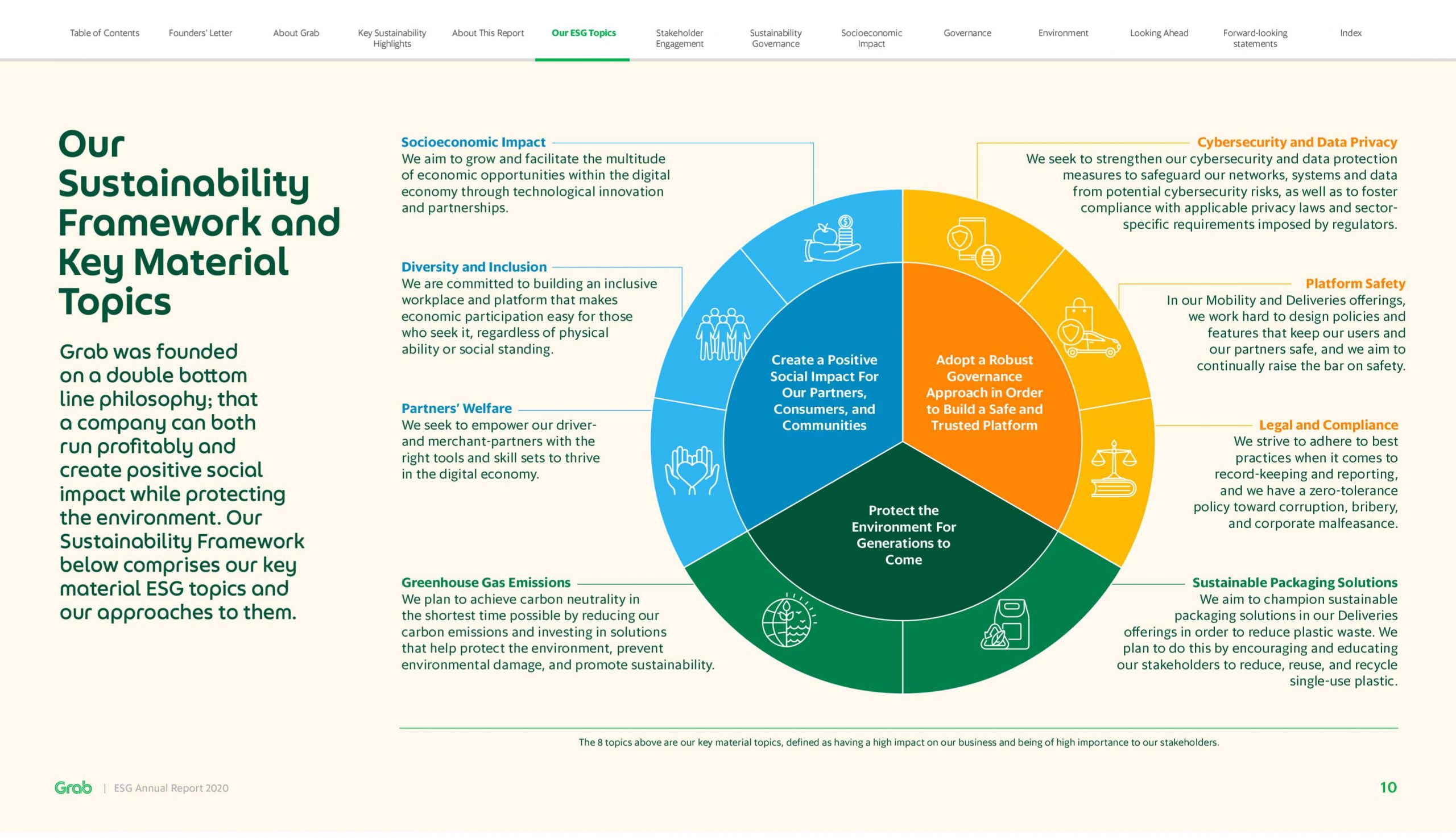 Report Highlights
Based on the report, 46% of its driver-partners were previously without work. Other highlights of Grab's 2020 achievements include having over 1,100 deaf and physically impaired partners; a reduced waste of 380 million single-use plastic cutleries; partnerships with agricultural ministries in the Philippines, Indonesia, and Thailand to bring local farmers and agripreneurs online; and over $200 million of investment on electric/hybrid rental cars.
Grab operates within the double bottom line philosophy. Grab believes a company could run profitably and create sustainable impact. The company aims to simultaneously seek profit, increase community welfare, and protect the environment.
In a survey conducted in March 2021 with its users across six Southeast Asian countries, 82% of respondents said they were concerned about climate change and were taking some actions to reduce their carbon footprint. Subsequently, Grab announced new initiatives to further reduce its carbon emissions and environmental footprint.
Cheryl Goh, Group Head of Marketing & Sustainability, said, "We have to adopt practical solutions that are tailored to the needs and barriers existing in the region (where Grab operates)."
In 2022, the company plans to announce science-based net-zero carbon targets and lay out a roadmap to achieve them.
Carbon Offset Feature
Grab is set to introduce a new feature that allows users to reduce their carbon footprint when traveling with them. It will let users purchase carbon offsets at less than 0.10 USD per ride, allowing them to have a dedicated tree when they have spent a designated amount.
The money will go towards reforestation and conservation projects in dedicated spaces for Grab's initiative, GrabForGood Forests. GrabForGood Forests currently exist in Indonesia, Malaysia, Thailand, and Vietnam as a collaboration between Grab and local non-governmental organizations.
Additionally, their users in Indonesia, Singapore, Malaysia and Vietnam and the Philippines will also be able to plant a tree through EcoMatcher using their GrabRewards points.
Electric Vehicles by Grab x Hyundai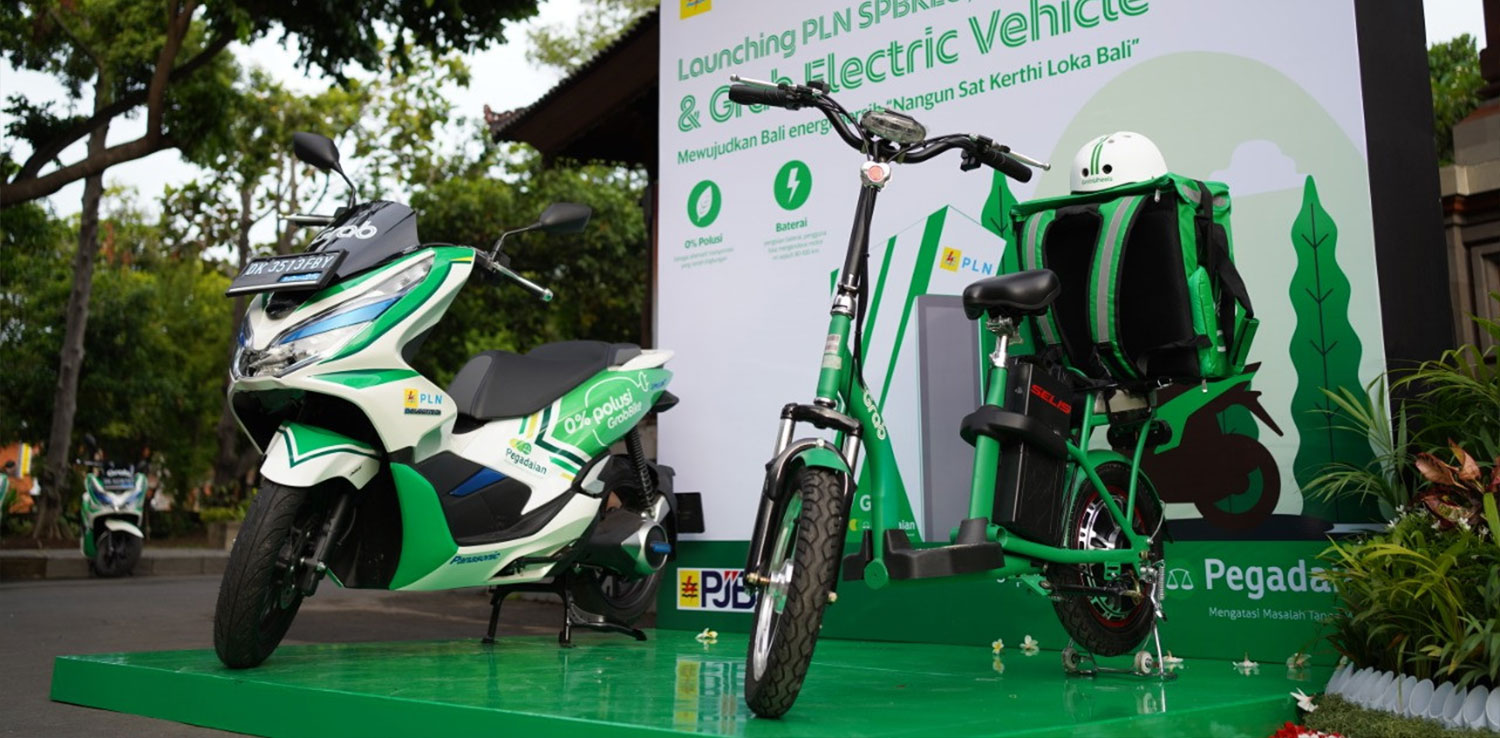 Grab and Hyundai Motor Group have expanded their partnership on the adoption of electric vehicles (EV) in Southeast Asia. Started in 2018, this partnership recently announced a plan to launch new pilot programs in Singapore, Indonesia, and Vietnam.
These pilot programs will focus on addressing the cost issue of EV ownership. These programs will test new EV business models, including leasing arrangements and special financing options for Grab's driver and delivery partners.
Grab and Hyundai will also conduct further research and develop a roadmap to ease the way of EV ownership and adoption in Southeast Asia.
Plastic Reduction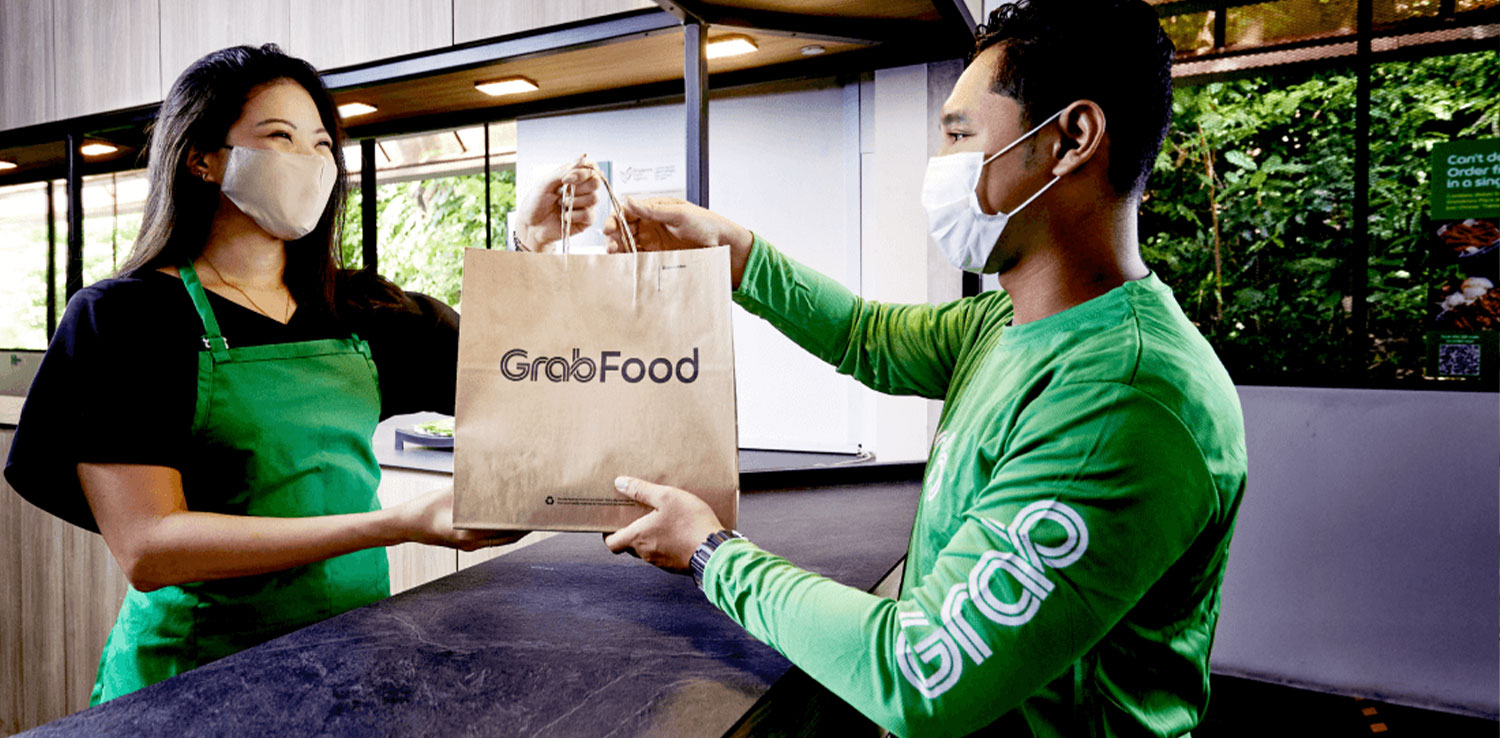 Single-use plastic packaging is a leading problem regarding waste in Southeast Asia. This company is committed to following WWF-Singapore's PACT (Plastic ACTion) Food Delivery Service pledge with the vision of 'No Plastic in Nature by 2030'.
So far, the digital multi-platform company has tried adding an opt-out for plastic cutlery and an option for eco-packaging with extra cost in certain regions. For its next step, Grab plans to implement a default opt-out for plastic cutlery. They also actively engages its merchant partners to use sustainable packaging as well as encouraging sustainable consumer behaviors.
Engagement and Accountability
Through transparency and accountability, Grab also seeks to build mutual trusts and support with its stakeholder groups. Dialogues, exchanges, and feedback are open between the company and its employees, merchant & driver partners, consumers, and the public sector. Grab hopes to nurture multi-stakeholder collaborations cultivate the spirit of sustainable development together through this engagement.
Editor: Marlis Afridah
To read the Indonesian translation version for this article, click here.
Thank you for reading!
If you find this article insightful, subscribe to Green Network Asia's Weekly Newsletter to stay up-to-date with sustainable development news and stories from multistakeholder communities in the Asia Pacific and beyond.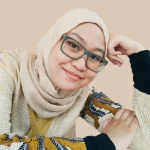 Naz is the Manager for International Editorial at Green Network Asia. She once studied Urban and Regional Planning and has lived in multiple cities across Southeast Asia. She is an experienced and passionate writer, editor, translator, and creative designer with almost a decade worth of portfolio.