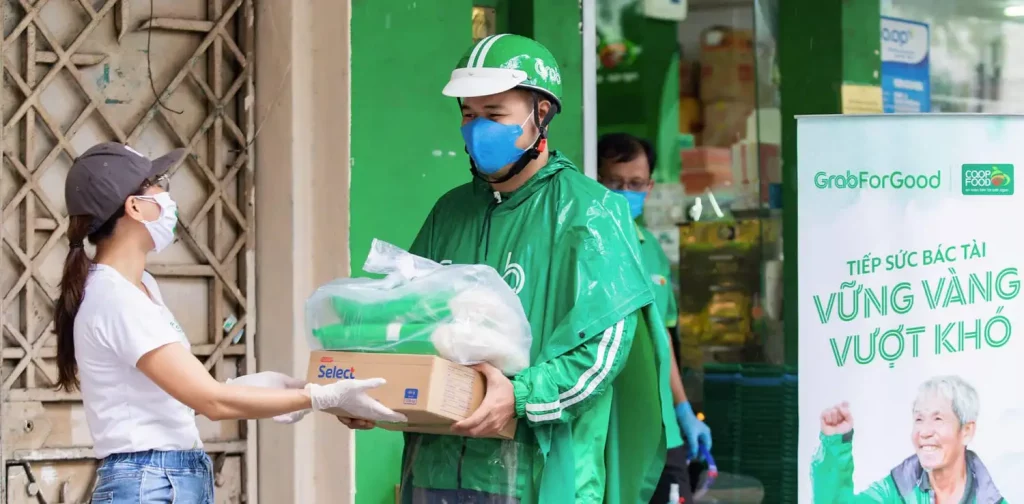 In Southeast Asia, Grab is a household name for mobile apps operating in eight countries. Grab Holdings Inc. offers services in Mobility, Deliveries, Financial Services, and Enterprise & New Initiatives. Although the company has yet to turn a profit, it continues to grow alongside its commitment to sustainable development, as reported in Grab ESG Report 2021. 
Grab ESG Report
As people become increasingly aware of sustainability, businesses start claiming their commitment to sustainable development. Unfortunately, a good chunk of these claims is just lip service, greenwashing. An Environment, Social, and Governance (ESG) Report is a way for organizations to show transparency and accountability of their claims. 
Last year, Grab declared a commitment to sustainability with its first ESG Report. The company recently released Grab ESG Report 2021, revealing performance data from January to December 2021 and announcing new goals for the future. 
Grab Highlights from 2021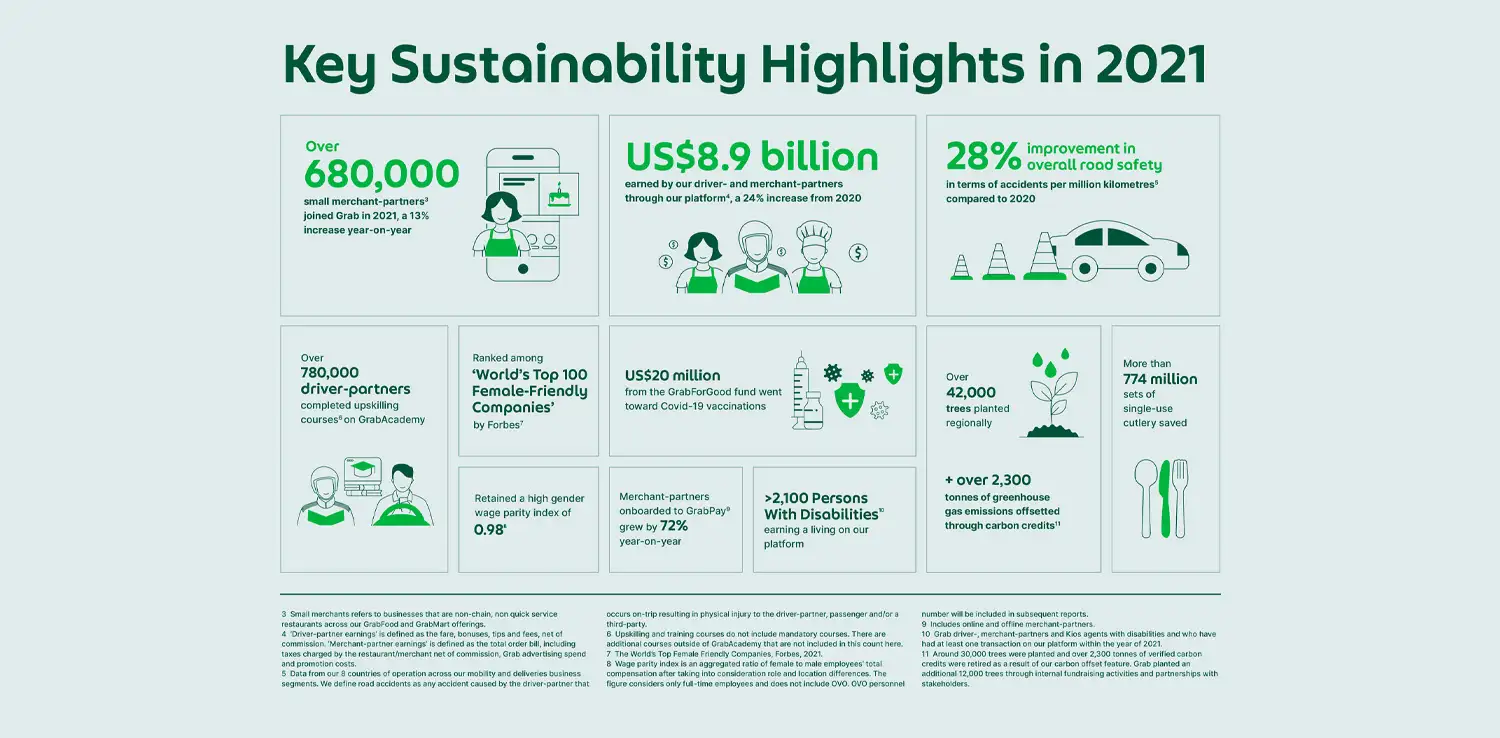 According to the report, Grab has transformed from the previous claim of a 'double bottom line company' to a triple bottom line company. Grab seeks to ensure that its success as a business reflects positively on people and the planet. 
The infographic highlights the company's performance related to the COVID-19 pandemic and Grab's three key pillars:
Creating positive social impacts for consumers, driver-partners, and merchant-partners

Ensuring long-term sustainability by protecting the environment

Upholding responsible business practices through robust governance structures
Additionally, Grab underlines their commitment to sustainable development by signing onto the United Nations Global Compact (UNGC) and the United Nations Women's Empowerment Principles (WEPs) in 2021.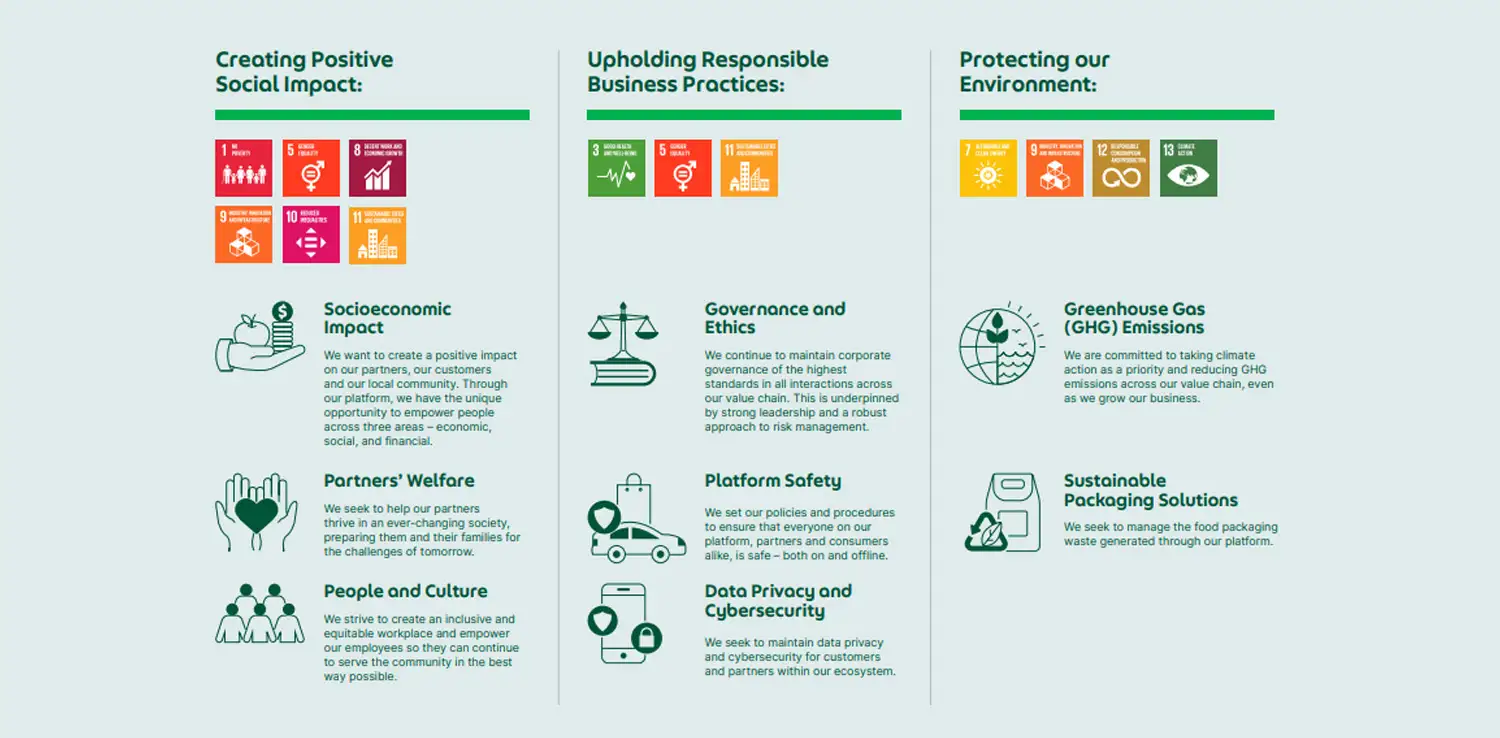 Grab's sustainability framework is based on the three key pillars mentioned above.
Grab for Inclusive, Sustainable Growth
Besides the company's performance and data from the past year, Grab ESG Report 2021 also lays out new ESG commitments and plans. As the company grows rapidly, it struggles to declare bolder goals on cutting down its greenhouse gas emissions. This seems to drive Grab to improve its community impact even more.
Anthony Tan, Co-Founder and Group Chief Executive Officer of Grab, said, "We have to confront two important realities in a rapidly growing digital economy. First, an unequal access to opportunities, and second, an acceleration of climate change. This is why we are focusing our ESG goals on driving inclusive growth and closely managing the environmental footprint of our ecosystem."
Based on the ESG Report 2021, Grab's new ESG goals are:
Doubling the number of marginalized individuals who earn a living on the Grab platform by 2025 
Currently, there are over 2,100 persons with disabilities working with or at Grab. Furthermore, in 2021, Grab signed a two-year contract with Singapore's social service agency APSN to prepare students with mild intellectual disabilities with vocational opportunities, targeting around 400 students. 
Increasing the percentage of women in leadership to 40% by 2030
The number right now is at 34% of women in leadership positions with a 0.98 gender wage parity index overall. Grab has three employee resource groups, one of them being Women at Grab. The company aims to double the number of employee resource groups by 2025.
This goal mainly focuses on transitioning to low emission vehicles by partnering with governments and industry players. The strategy also includes increasing renewable energy use for Grab's premises, developing sustainable business & technological practices, and using high-quality carbon avoidance & removal programs for the residual emissions. 
Thank you for reading!
If you find this article insightful, subscribe to Green Network Asia's Weekly Newsletter to stay up-to-date with sustainable development news and stories from multistakeholder communities in the Asia Pacific and beyond.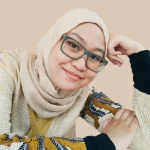 Naz is the Manager for International Editorial at Green Network Asia. She once studied Urban and Regional Planning and has lived in multiple cities across Southeast Asia. She is an experienced and passionate writer, editor, translator, and creative designer with almost a decade worth of portfolio.