OUR OFFERING
The Green Network Team offers B2B and B2G partnerships that deliver public affairs consultancy through our integrated platforms to support your sustainable development journey. 
RELEVANT BUSINESS PARTNERS
We look forward to partnering with mission-aligned organizations that share value with us about improving the lives and wellbeing of people and the planet. They include and are not limited to:
United Nations bodies, international organizations, regional organizations, governments at all levels, multinational corporations, state-owned enterprises, startups, social enterprises, small and medium enterprises, business groups, trade associations, non-profit organizations, civil society groups, private foundations, academic institutions, think tanks, healthcare, financial service institutions, lawmakers, unions, and media.
OUR SERVICES
Our services are classified into four business units: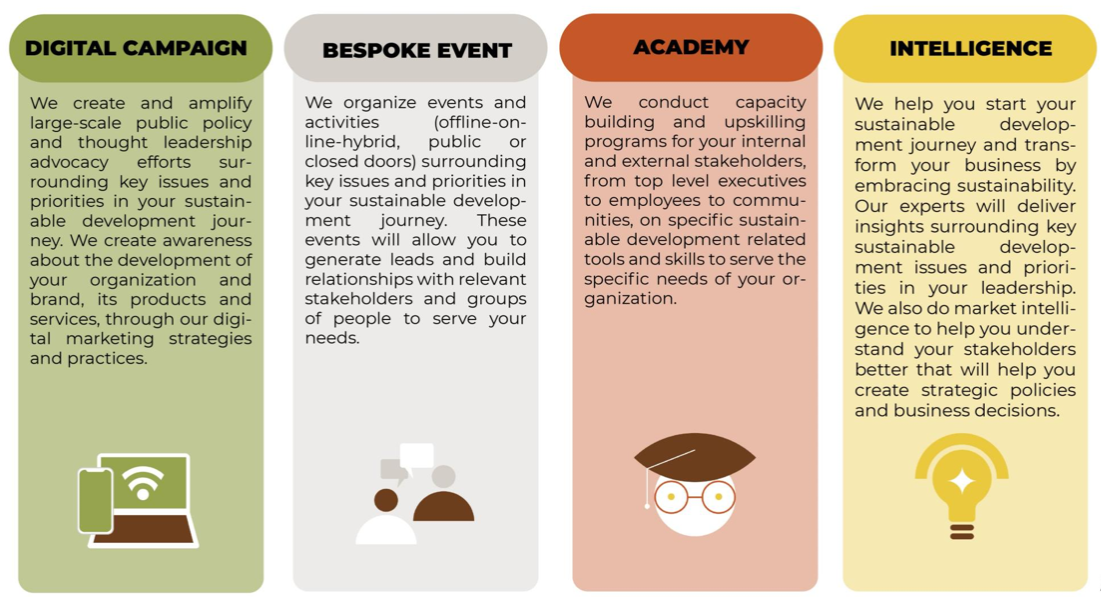 PARTNER WITH US
We want to protect your investment in our partnerships by developing a Credit System to guarantee flexibility in allocating resources based on your specific business needs. 
We look forward to supporting your sustainable development journey and bringing to life your positive impact and thought leadership. 
Get in touch with our team to learn how we can support your organization and brand:
Marlis Afridah
Founder and Chief Executive Officer
Email: marlis@greennetwork.asia cc contact@greennetwork.asia 
Mobile: +62 822 2537 2855
Aliyah Assegaf
Manager for Partnerships
Email: aliyah@greennetwork.asia cc contact@greennetwork.asia 
Mobile: +62 812 9464 6113
Download the Green Network Prospectus: 
The Green Network Prospectus
By downloading the Prospectus, you have agreed to our Terms of Service and Privacy Policy.
The Green Network Prospectus