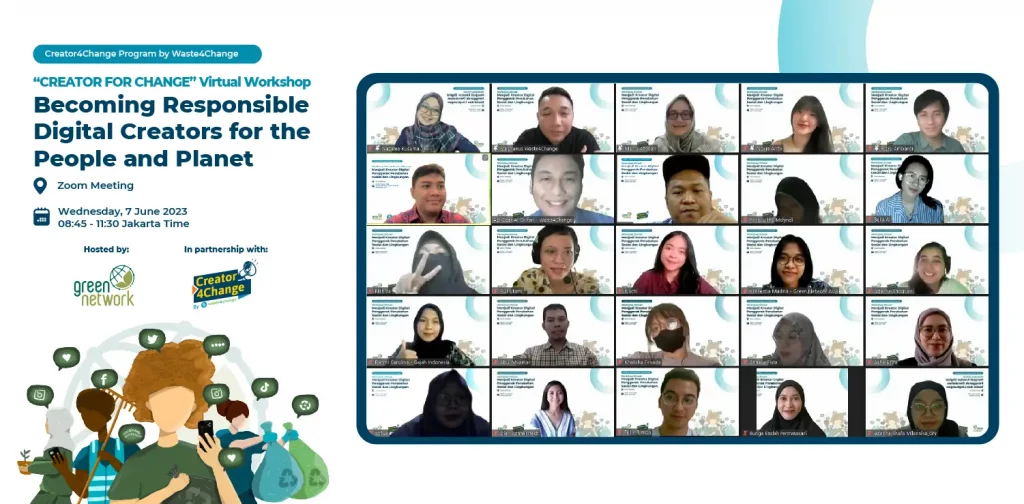 Today, social media has become a significant part of our lives. People can produce contents that can reach anyone from all over the world. In this case, the role of digital creators as a part of the digital phenomenon cannot be overlooked. Digital creators have the potential to drive meaningful changes, especially in this time where the world is facing many unprecedented problems. A capacity building program might just be what they need to help them realize this potential.
Green Network Asia in partnership with waste management company Waste4Change hosted a capacity-building workshop for digital creators. The workshop "Becoming Responsible Digital Creators for the People and Planet" was held virtually on June 7 to equip digital creators, educators, and activists with the knowledge and practical skills necessary to actively contribute to public education and digital advocacy through responsible creative content creation.
Meaningful Capacity Building
The Creator4Change capacity-building workshop is designed to target digital creators from all over Indonesia who are passionate about social and environmental advocacy. From 224 applicants, 62 digital creators got the opportunity to gain knowledge and practical skills directly from experienced field practitioners. 
The workshop started with Rizky Ambardi, the Head of Recycling Business Waste4Change, who shared knowledge surrounding waste accumulation and responsible waste management solutions. The second speaker was Novia Arifin, a digital creator who shared storytelling and digital creation techniques for digital content. The last speaker was Nazalea Kusuma, who introduced the concept of greenwashing and responsible content production techniques based on her experience as the Manager for Editorial at Green Network Asia. This workshop was led by Marlis Afridah, Founder & CEO of Green Network Asia.
"Capacity development is crucial for digital creators, educators, activists, journalists, and researchers. Waste4Change gives an excellent example of how a company can follow through with its sustainability commitment by equipping its internal and external stakeholders with empowering capacity-building programs. This creates a meaningful and strategic relationship and opportunities for positive impacts in the long run," said Marlis Afridah, Founder & CEO of Green Network Asia
Insightful Knowledge Exchange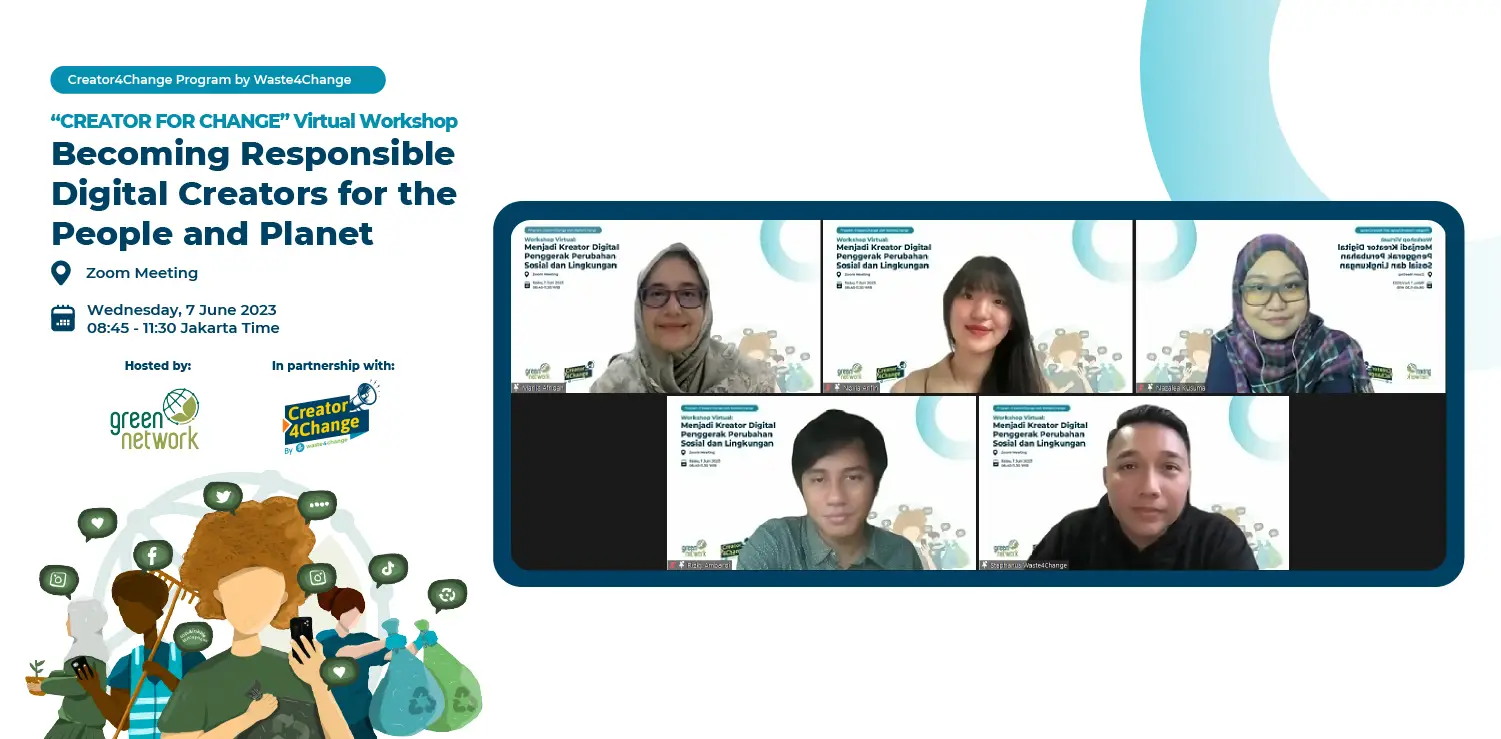 Participants displayed high enthusiasm for learning and exchanging experiences throughout the workshop. The workshop was designed to be interactive to build a community and develop a knowledgeable digital creator ecosystem that can produce responsible digital content for public education and sustainability advocacy in society, especially surrounding responsible waste management. This aligns with Sustainable Development Goals, particularly Goal 12 on Sustainable Consumption and Production.
Wigbertha Mayela Mbuka, one of the participants from Denpasar, Bali, shared her feedback in the perception survey, "This workshop was intriguing and impressive because it was different from other workshops that only focused on material elaborations. Participants had many opportunities to ask questions and share experiences, so there was two-way communication. The materials were easy to understand because the speakers' elaborations were clear and solid. The discussion with other digital creators was also insightful and full of critical and intriguing questions. I am happy to participate in this workshop; hopefully, there will be more similar activities in the future."
Responsible Digital Creators for the People and Planet
The world is currently grappling with various wicked problems on an unprecedented scale. Large-scale public participation on national, regional, and international scale is crucial to tackle those problems and make meaningful impacts. Different from high-level officials, digital creators have the potential to be communication channels that are relatable and easy to understand by the public. Supporting digital creators with the relevant knowledge and practical skills becomes one of the effective ways to drive changes toward an environmentally-friendly societal mindset and behavior.
"Creator4Change aims to support potential eco-creators in spreading information on environmental issues, particularly responsible waste management, to a wider audience. With inspirations and positive impacts from digital creators, we can drive significant changes and empower the public to support sustainable development progress for the planet," said Stephanus Kenny, Head of Communication and Engagement Waste4Change.
Translator: Kresentia Madina
Read the original article in Indonesian at Green Network Indonesia.
Thank you for reading!
If you find this article insightful, subscribe to Green Network Asia's Weekly Newsletter to stay up-to-date with sustainable development news and stories from multistakeholder communities in the Asia Pacific and beyond.