Creator4Change Program by Waste4Change
"CREATOR FOR CHANGE" Virtual Workshop
Becoming Responsible Digital Creators for the People and Planet
The world is facing unprecedented challenges, such as climate crises, waste accumulation in lands and oceans, biodiversity decline, and many other wicked problems. Without large-scale public participation, the sectoral works done by governments, businesses, and civil society cannot reap the desired results.
Tackling various urgent issues needs more responsible communication channels that are easy to understand for the public. In this case, the role of digital creators as a part of the digital phenomenon cannot be overlooked. They have the potential to reach the public through relatable, easy-to-understand ways that are different from high-level public officials and policymakers.
Green Network Asia in partnership with Waste4Change presents Creator4Change Virtual Workshop to help you become a digital creator who can drive social and environmental changes. This workshop will equip you with the knowledge and practical skills that you need to effectively contribute to public education and advocacy by creating creative content to support changes toward an environmentally-friendly societal mindset and behavior.
By utilizing your capability and influence for higher social and environmental missions, complete with the relevant knowledge and practical skills you will get through this workshop, you can be a digital creator who can help drive changes for the people and planet.
The benefits of joining the Creator4Change Virtual Workshop:
AGENDA WORKSHOP VIRTUAL CREATOR4CHANGE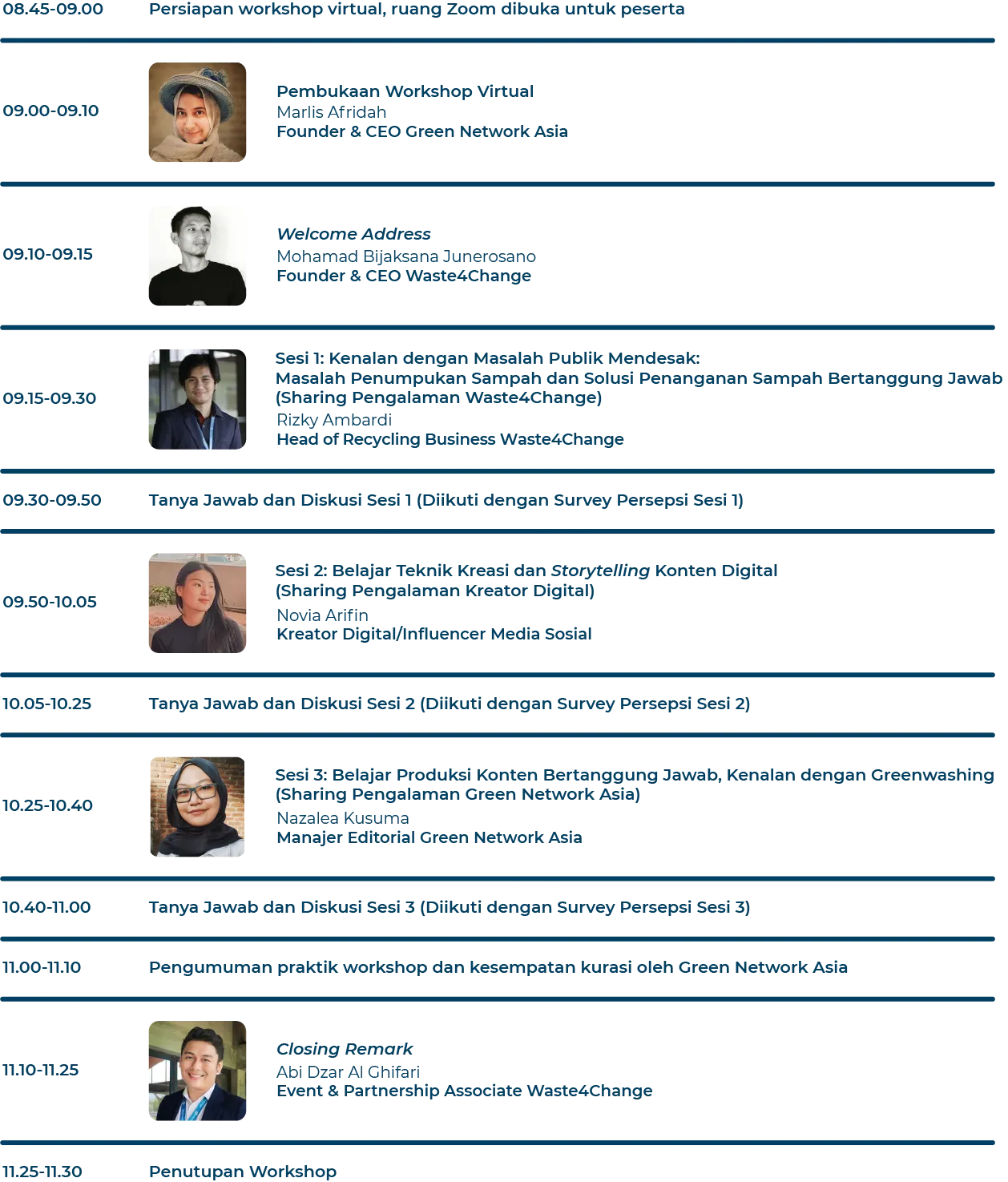 FORMULIR REGISTRASI ONLINE
More Questions on Online Registration
Azarine Shafa Milannisa (Rin)
Event & Activities, Green Network Asia
HP: +62 896-3549-4418
Email: [email protected]
Online Registration Terms & Conditions
The workshop offers a complimentary ticket for 50 participants from all regions of Indonesia. Tickets are valid with the organizers' approval, and the organizers have the right to decline ineligible registrations. An absence penalty of Rp 1.000.000 (one million rupiahs) applies to participants who failed to attend the workshop from start to finish. The penalty applies to make up for the lost opportunity cost, such as slots that can be allocated for other participants.
www.greennetwork.asia | www.greennetwork.id