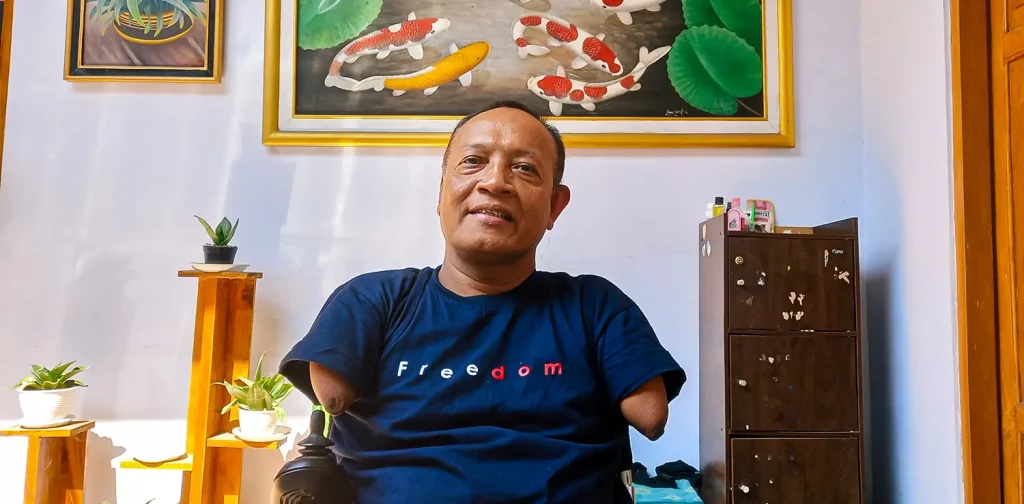 "If normal people can do it, we with disabilities can do it, too," said Agus Yusuf Endang Kresno Raden. He is a painting artist with disability from Madiun, East Java, Indonesia. 
There is a long story behind the word 'can' that the painter said. Before he began, Agus took a moment. He was staring far out the open door of his house, shifting through his memories under the bright sky that day.
That afternoon, Agus worked on a painting at his gallery behind his house. It was an almost-finished scene of fishing boats docking.
"I'll continue tomorrow," he said. Agus usually paints in the morning until midday when his concentration is at its best.
Natural Talent
Agus was born in Madiun Regency on May 20, 1963, to a family of farm workers. Born with physical disabilities, he grew to be an independent kid who refused to burden anyone, including his parents.
Despite starting school later than other children his age, he was never discouraged. Every day, he tackled a three-kilometer journey to school without any aid. He shared, "I went to SDN Sidomulyo. It's a public school, not a special school for students with disabilities."
Agus is an autodidact painter whose talent was first realized in second grade. Painting with his mouth and left foot, his creations stood out among his classmates. His teachers soon noticed this talent and entered him in a village-level painting competition when he was in fifth grade. Afterward, he kept winning other art competitions up to the regency level in Madiun.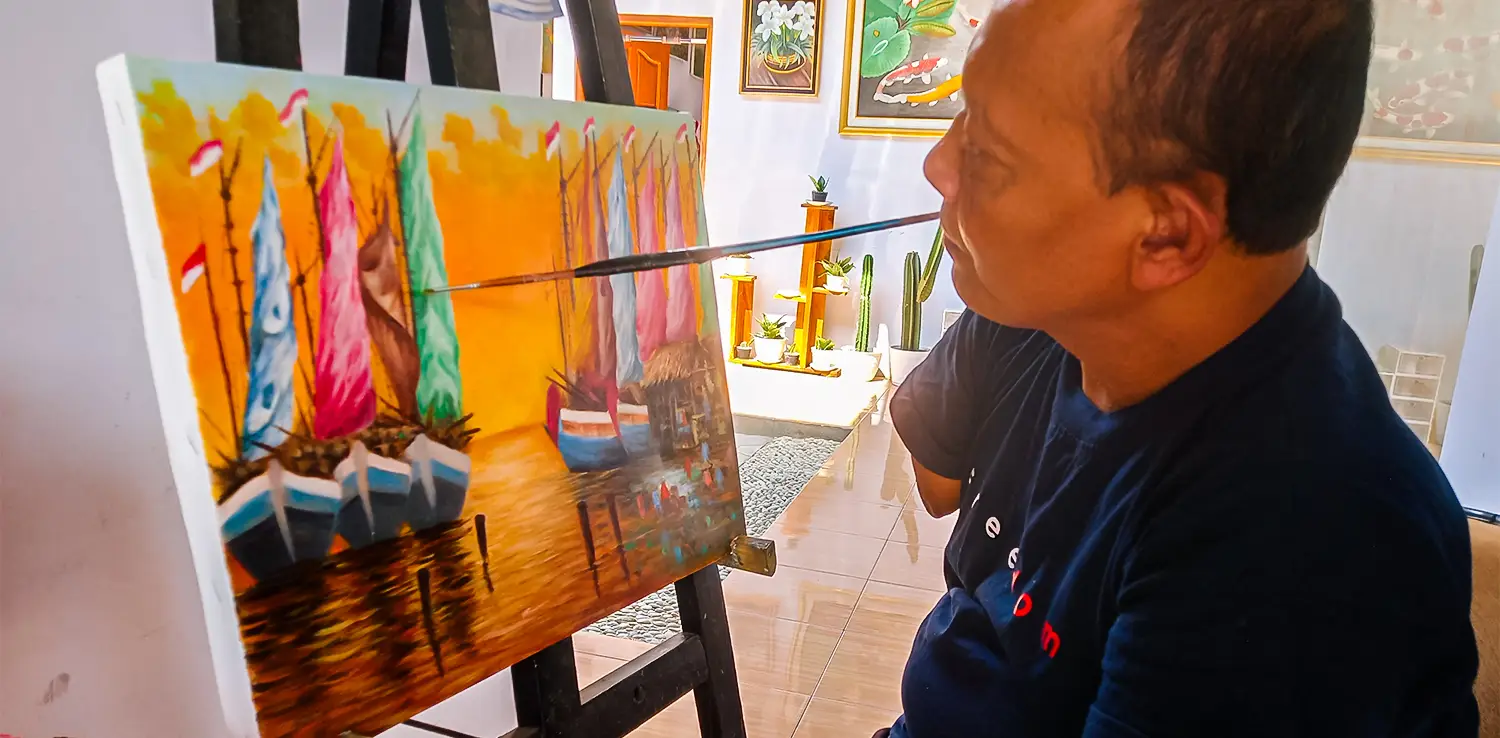 Strong Will
In 1985, Agus graduated from middle school as a 22-year-old. Afterward, he didn't know what to do as job searching was not easy.
"I didn't continue [my education] due to my parents' financial situation. At the time, my younger brother also wanted to enter vocational high school. So, only he could continue. I was idle for a while after graduating," he said. 
For three years, Agus was at rock bottom. At times, he mourned his condition. Still, he never really gave up. His will to not burden anyone kept lighting up his mind, pushing him to improve his skills. 
"Besides studying and reading a lot, I also spent that time fasting, getting closer to the Almighty. I did all kinds of fasting. I prayed to be given work—something light but with a high salary," he confessed.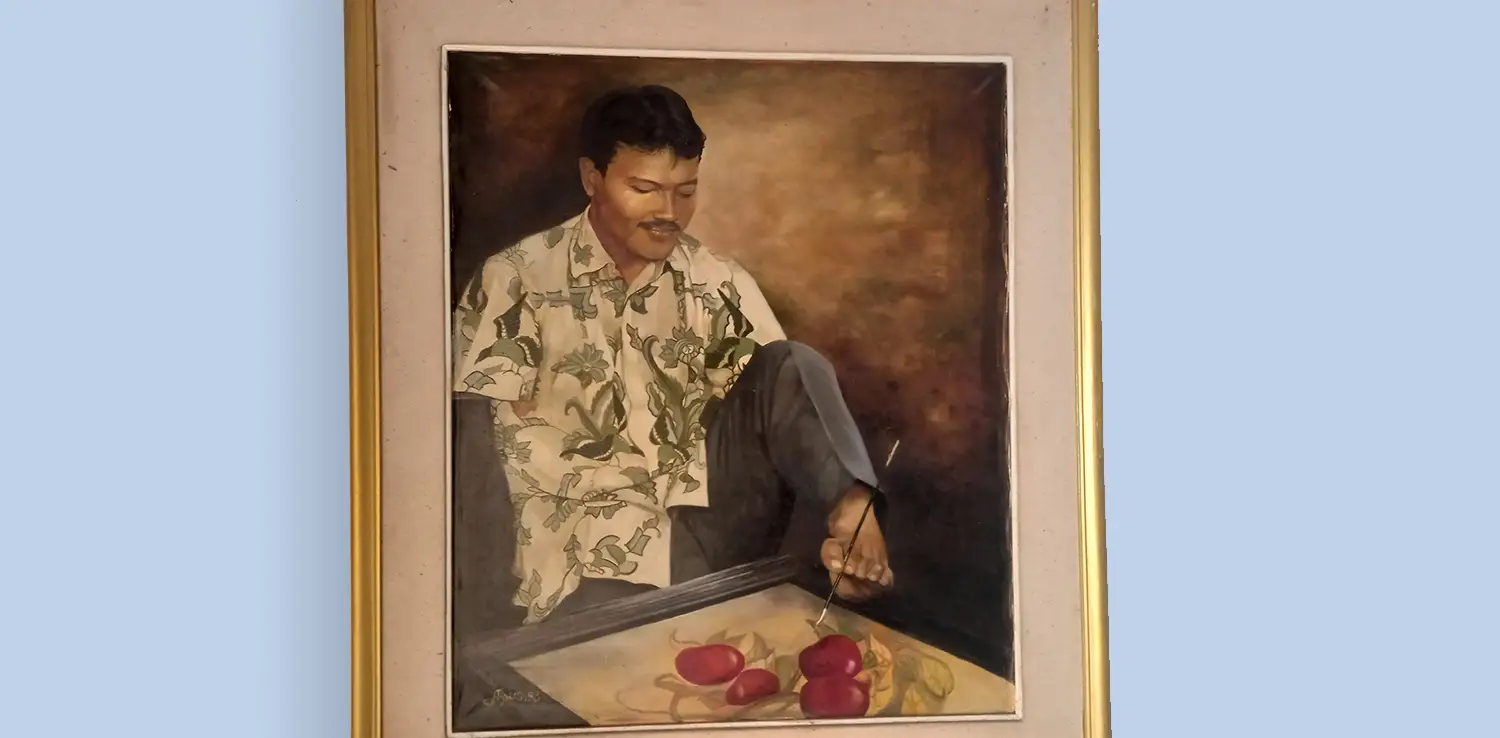 His prayers and efforts were answered. One day in 1988, a neighbor told him about the Association of Mouth and Foot Painting Artists of The World (AMFPA), which was then looking for painting artists with disabilities from Indonesia. With conviction, Agus sent his application to the association headquartered in Switzerland. 
After a year-long selection process, Agus became a part of the AMFPA as a Student Member. Through this association, his paintings become his source of income.
"If you think about it logically, with my condition, it was impossible. But God is All-Knowing," he said.  
As a Student Member, Agus must send 3 to 6 paintings every three months to the AMFPA via post. Besides for sale, the paintings are evaluated by the AMFPA to gauge his development as an artist and eligibility to up his status from Student Member to Associate Member and finally to Full Member.
It took Agus 21 years to level up. "In 2010, I leveled up to be an Associate Member," he shared. 
Aspiring Painting Artists with Disabilities
From the start, Agus didn't want his painting to benefit only him. He has been teaching kids to paint since 2003. Besides the regular classes at his gallery, he often gets invited by art teachers from schools all over Madiun to be a specialist who tutors students joining art competitions. Some won; many fell more in love with the painting art. 
When teaching, Agus always emphasizes the importance of enjoying the process. This principle guides his students to express their art and feelings onto canvases comfortably without restraint. It also helps them find their uniqueness, their signature strokes and colors. 
He said, "After that, I start going into the theory, like color composition, lighting, and stroke techniques, so the quality of their paintings can be assessed properly."
Agus keeps the doors of his gallery open for anyone who wants to learn to paint. He said, "I invite the villagers to learn to paint here for free. I also invite orphaned kids every Ramadan month, offering them painting lessons. But, well, the locals aren't very interested in art and don't encourage their children to learn about it. So, I don't have a lot of students."
To share his knowledge with more people, Agus dreams of opening an art school that will also empower other artists with disabilities who are still struggling to live a good life. As he imagines it, he hopes the art school will be a learning facility that is inclusive of aspiring artists with disabilities. With several public figures in his network, he is sure his aspiration is not out of reach.
"It feels selfish to only think about myself. I want to help as many people as possible. After all, all of this belongs to the Almighty first and foremost. I already have the land. I know the current regent well. All that's left is thinking about conveying this plan," said Agus.
He added, "What's clear is that I am ready to give my energy to teach. I will prioritize aspiring artists with disabilities because I understand well how it feels to be one. Once everything is running, I will invite my friends who are painting artists with disabilities to help teach. Inshallah, they're ready, too."
Empowerment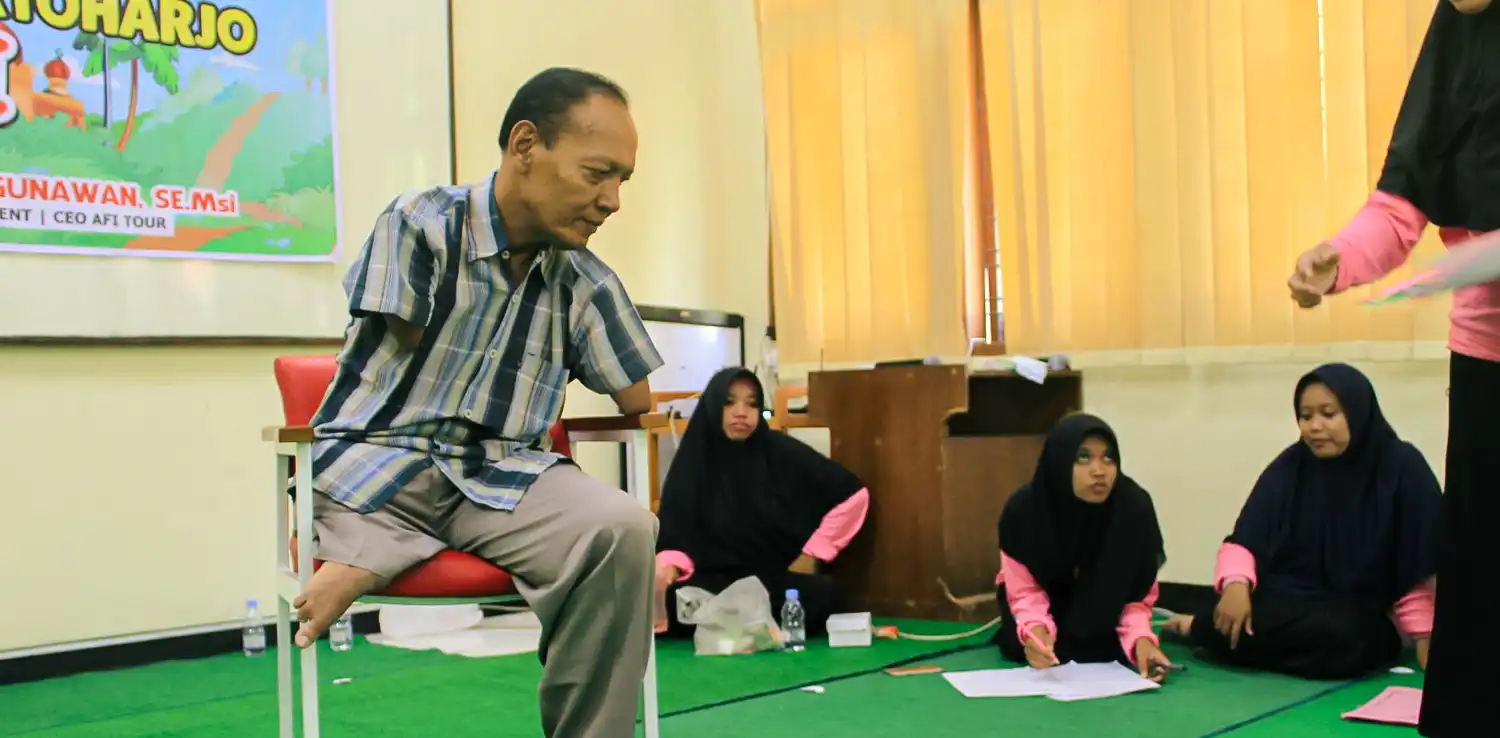 Agus has created over 650 naturalist-realist paintings throughout his career. Most of his paintings take inspiration from nature. 
Every three to five years, Agus and other AMFPA members hold joint exhibitions worldwide, such as in Spain, Austria, Switzerland, Singapore, and Thailand. He also regularly does joint exhibitions with other painting artists with disabilities in several Indonesian cities. 
"I hold exhibitions to introduce mouth and foot painting artists to the public. Usually in Surabaya, Jogja, and Salatiga. The exhibitions are also an opportunity to learn from each other and improve our techniques," he said. 
With his paintings, Agus lives a prosperous life with his wife and two children. With the money he saved every month, he was able to purchase a 1,400-meter farmland and employ five farm workers. During Ramadan every year, he donates to the poor and the orphaned kids around his village. He is also a regular donor at the local amil zakat agency, Yatim Mandiri Madiun.
Long story short, Agus's dreams go beyond opening an art school. More than anything, he wants his life to be beneficial for as many people as possible. 
He said, "Just like my principle: if normal people can, I can, too. I don't want to burden anyone. I can drive a car. I can ride a motorcycle. I can eat by myself, no need to feed me. And alhamdulillah, my wife and I got to perform the Hajj recently (June 2023)."
"So, I always insist, especially to children with disabilities, let's not depend on others. Don't hope for pity from others. Don't give up. We have to explore our abilities. If we keep our spirit, our will, Allah will give us a way," he concluded. 
Read the Indonesian version of this article at Green Network Asia – Indonesia.
Translator: Nazalea Kusuma
Thank you for reading!
If you find this article insightful, subscribe to Green Network Asia's Weekly Newsletter to stay up-to-date with sustainable development news and stories from multistakeholder communities in the Asia Pacific and beyond.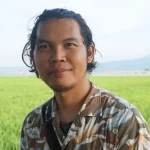 Amar is the Manager for Editorial Indonesia at Green Network Asia. He graduated from the Master of Philosophy program at Universitas Gadjah Mada and Bachelor of Communication Science at Universitas Sumatera Utara, Indonesia. He has ten years of working experience in journalism as a reporter and editor.