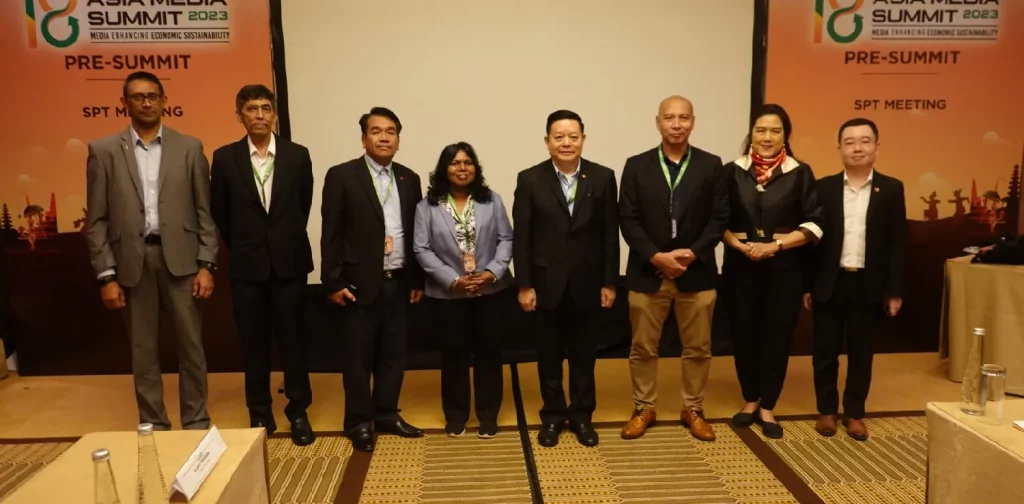 Mass media have the power, opportunity, and strategic role to drive societal changes. As the communication theorist Harold Lasswell said, the media have the power to influence people through the information that is being broadcasted. As the world is on its way to achieving the Sustainable Development Goals, the media must strengthen its role as the channel for public education to create a collective awareness through literacy development for individuals, society, as well as public and private sectors. This was the primary goal of the 18th Asia Media Summit 2023 held in Nusa Dua, Bali, Indonesia, on 22-25 May 2023.
Threats of misinformation and disinformation
Technological development is akin to a double-edged sword. It makes it easier for people to access and spread information. On the other hand, it can also raise threats through misinformation and disinformation (hoax) that floods various digital platforms daily, mainly social media. Data by Indonesia's Ministry of Communication and Information Technology shows that at least 11,357 instances of misinformation and disinformation were recorded between August 2018 and March 2023 in Indonesia, with health issues topping the list.
In ASEAN countries, misinformation and disinformation issues also persist. In some countries, social media is used to spread fake news to manipulate the public's opinion on certain political movements. The issue of racial discrimination, health misinformation, and digital fraud also emerged.
Besides democracy, misinformation and disinformation also threaten public education and media continuity. Several negative impacts of misinformation and disinformation are: creating conflicts and division in society, deluding the public's opinion and views, blurring the truth and facts, birthing chaos, and generating distrust for individuals or institutions. 
"Information flows rapidly. It comes and goes very quickly, challenging the media to consistently spread valid information to empower and build civilization," said Ma'ruf Amin, the Vice President of Indonesia, during his opening speech.
The Asia Media Summit 2023
The Asia Media Summit is an annual meeting forum for the Asia-Pacific Institute of Broadcasting Development (AIBD) members. It invites industry players to share information and exchange knowledge on broadcasting and communication. Decision makers, media professionals, scholars, and media industry stakeholders from Asia-Pacific, Africa, Europe, the Middle East, and Northern America also attended the annual conference to exchange knowledge.
Bringing up the theme "Media Enhancing Economic Sustainability," the Asia Media Summit 2023 (AMS 2023) aims to advance the role of media in contributing to sustainable development, particularly in the economic sector, through its role as a public education channel. The AIBD members held discussions to strengthen collaborations between media and society, the industry sector, and governments. The Public Broadcasting Institution TVRI, an AIBD member since 1977, became the host city in this forum.
AMS 2023 consisted of a series of seminars with various topics, such as "Media Literacy: Creating a More Informed Society," "Future of Television," and "Engineering Fundamentals in the Automation Era." Journalists, content creators, and television producers gathered in discussions to strengthen their roles in forming powerful narratives for society to support sustainable development.
"The AMS meeting held in Bali is also a part of the effort by broadcasting media to support national economic recovery, particularly in accommodation, tourism, and MSMEs sectors," said Iman Brotoseno, the President Director of TVRI.
Raising public awareness
The AMS 2023 resulted in three initiatives recorded in the Bali Memorandum of Understanding. The initiatives are:
Raising public awareness through education regarding the information circulating in social media.

Taking responsibility with platform owners and social media stakeholders regarding misinformation and disinformation.

Enforcing regulations on a regional scale to identify and protect the balance between freedom of speech and limitations in expressing opinions on social media.
Media is one of the most accessible sources of information, ideas, education, entertainment, policy, and public issues that must be recognized by related stakeholders. Therefore, as Vice President Ma'ruf Amin said, "Media must be able to optimize its role to channel and present fresh ideas that can become solutions and build mutual collaborations."
Translator: Kresentia Madina
Read the original article in Indonesian at Green Network Asia – Indonesia.
Thank you for reading!
If you find this article insightful, subscribe to Green Network Asia's Weekly Newsletter to stay up-to-date with sustainable development news and stories from multistakeholder communities in the Asia Pacific and beyond.

Amar is the Manager for Editorial Indonesia at Green Network Asia. He graduated from the Master of Philosophy program at Universitas Gadjah Mada and Bachelor of Communication Science at Universitas Sumatera Utara, Indonesia. He has ten years of working experience in journalism as a reporter and editor.