V-ber Home Makes Internet Accessible in Rural Asmat Papua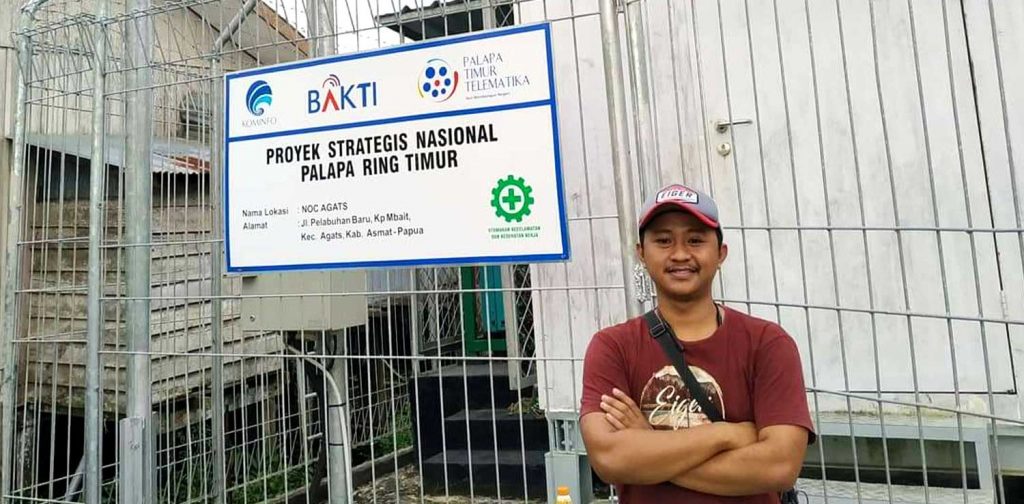 Initially, Fuad Rifai came to Asmat Regency, Papua, as a healthcare worker at the regional public hospital. However, the weak internet connection there made him concerned, and he started to think of a possible solution. With his colleagues, he then started an internet installation service in remote rural Papua called V-ber Home.
The topography of rural Asmat with swamps that are hard to access, limited knowledge and skill, expensive hardware, and even socio-cultural issues did not stop the V-ber Home team from fulfilling their mission. Now, V-ber Home internet has reached all of Agats district and several other districts in Asmat Regency.
The works of V-ber Home have made the prices of many things easier to monitor, thus making them more affordable. Online learning during the Covid-19 pandemic has also been operating well. Here is our interview with Fuad Rifai by Zia Ul Haq from Green Network on Wednesday (6/2/2021) through video call.
What was the main problem that you saw regarding internet access in Asmat?
In 2010, Telkomsel (an Indonesian network provider) hadn't reached Asmat. Even in 2017, when I first arrived here, there was barely any internet connection. We communicated using handheld transceivers more effectively.
Minimal internet connection for sure affected the condition here for people and the government. When malnutrition was bad, many volunteers weren't keen to stay because they were used to living with social media and stable communication networks—especially those who had to be away from their family or spouses.
Moreover, prices of things fluctuated wildly because they were unmonitored, information flow was extremely limited, and many learning materials were inaccessible. All of those were caused by inadequate internet connection.
Were those the reasons you started an internet installation service there?
Yes, they were. However, I hope you don't misunderstand. What I'm doing isn't purely a social action. I provide internet installation service commercially, so this is also business. But I do try to keep the prices affordable and proportionate to what people get.
How much do you charge?
When I first started this service, I charged IDR 1 million for 265KB of internet data. It was expensive because the bandwidth itself was expensive, plus the hardware and also permits for bureaucracy.
After more experience, I studied the permit and other regulations related to installing a network, also more affordable routes to shop for hardware and devices. These efforts were able to cut the price down. Today, I charge IDR 450 thousand for 1MB of internet data. The price decreased, but the quality increased.
Where did you learn about internet installation? Didn't you come as a nurse?
I learned on my own. At first, I didn't know anything about internet installation. Whether I wanted to or not, I had to learn from my friends who were already experts. We couldn't afford to fly in a technician.
Every time I went home to my hometown in Java, I made time to learn more from my friends there. Now, I can do the installation myself and even get asked to do that in other areas as well. I am now officially a technician, too. I can modify devices to suit our needs here.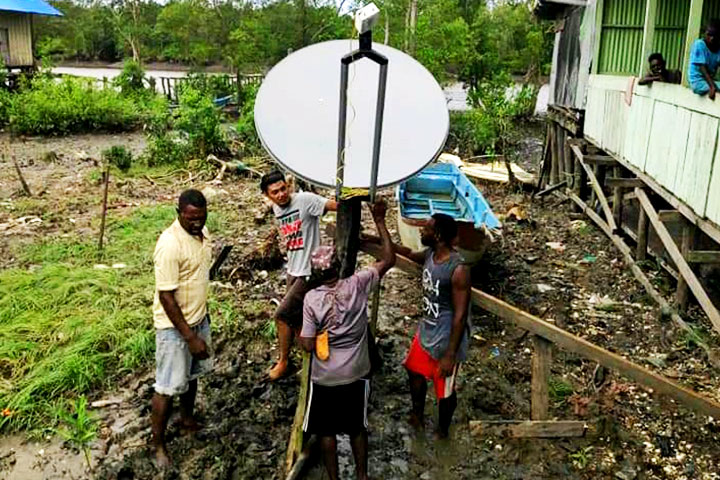 How has the government been about this? What kind of policy do you wish the government to create?
The regional government has given us a permit to utilize lamp posts so our transmitter devices can be set up there.
I don't really hope for material support from the government. I only wish for them to make it easier to get permits. Simplify the process, at least to be as written on regulations.
To KOMINFO (Indonesia's Ministry of Communication and Information Technology), I hope to see a better policy on bandwidth price, so the bandwidth price in Papua is the same as in Java, or just twice the amount most.
Imagine that. The bandwidth price in Java is around 70-80 million IDR for 1GB of internet data. In Papua, bandwidth is sold at 900 thousand IDR per 1MB. That means we have to pay 900 million IDR for 1GB of internet data. Back then, it even reached 10 million IDR per 1MB.
Have you been partnering with private companies as well? What is your message to the business sector?
Yes, we have. I hope to build partnerships on funding, but partnerships on knowledge sharing and skill upgrades are even more important to help us advance our services.
What are the challenges you've been facing while working there?
As you can see (while showing his living area through video call screen), I live in a stilt house over a swamp. The distance between houses is quite far. I use a rainwater reservoir for daily water needs. PLN (State Electricity Company) still uses diesel for power supply.
Travel cost through districts is higher than my cost to go back to my hometown in Banyuwangi, East Java (roughly 2,675 km). With 9 million IDR, I can travel back home to Banyuwangi and back to Asmat. To travel from one district to another in Asmat, the cost can go up to 5 million IDR because we need to rent boats and other stuff because they're different islands.
As a migrant, I also must be able to establish good relationships with the locals. There have been times when we wanted to install a device across a local's land, but the landowner didn't like that, so we had to pay the traditional custom fine. We have to pay attention to things like that.
Fortunately, my profession as a nurse is quite helpful in that regard. The local people keep calling me "Pak Mantri" (Mister Orderly). I am grateful that the people here have started needing this internet installation service. Because of that, they will hopefully support us if there's an emergency or other rackets.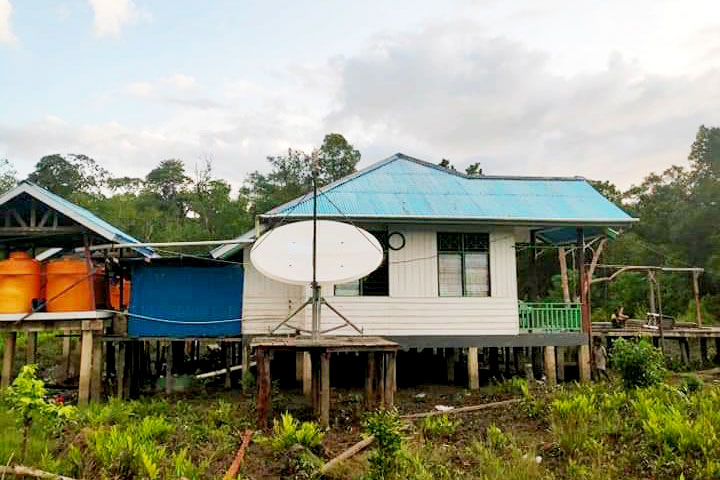 What supports you to keep going to this day?
My initial motivation to come here was the economic factor. However, that's not my main drive. I feel something tying me to Asmat, something that's hard to describe. I feel happy seeing people here enjoying stable internet access and how that affects their economic and education situation.
Every time I go back home to Java, I always think about coming back to Asmat shortly. I can't leave my activities here for long. Once, I even only went home to Banyuwangi for one day. After my business was taken care of, I immediately bought a plane ticket and flew to Asmat.
After quite some time, what changes have happened?
The prices for everything are now relatively more affordable. For example, one pair of trousers that used to cost 300 thousand IDR now costs 150 thousand IDR. 
Consumers now can monitor the shipping process online and more transparently. Schools can also hold remote learning well. Internet connection definitely helps a lot for students to keep learning during the Covid-19 pandemic.
What are your hopes for people there in the future?
I hope the internet can be spread all over and accessible for people in remote rural areas, especially 3T areas (areas with international borders and lack of infrastructure), to improve their living standards.
I also hope to perfect the concept of the network here. Here, our concept is more familiarly called RT-RW NET. I hope this effort can be beneficial, a blessing for the people and for us, too.
-End-
Translator and Editor: Nazalea Kusuma
The original version of this interview in Indonesian could be read here.
Activities related to V-ber Home can be watched on Fuad Rifai's Youtube channel.
Thank you for reading!
If you find this article insightful, subscribe to Green Network Asia's Weekly Newsletter to stay up-to-date with sustainable development news and stories from multistakeholder communities in the Asia Pacific and beyond.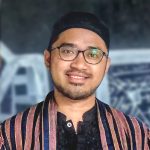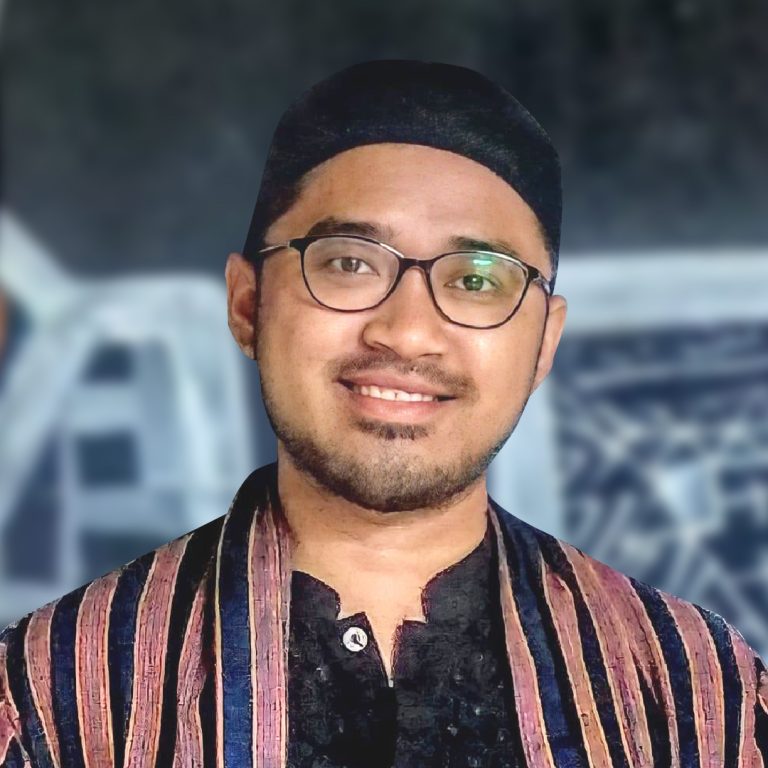 Zia is a Contributing Author for Green Network ID. He is a Learning Companion at Qaryah Thayyibah Learning Community (KBQT).