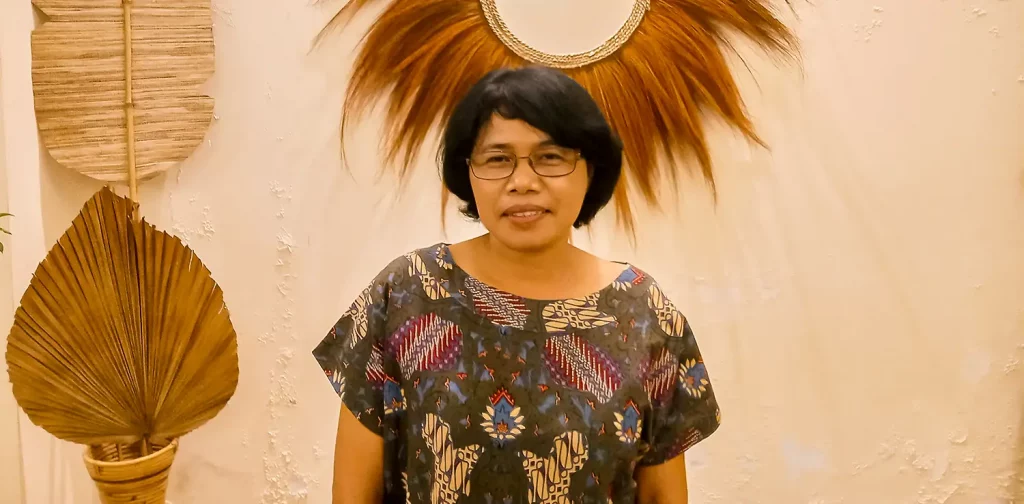 "An educated person must learn to act justly, beginning, first of all, with his thoughts, then later in his deeds," wrote Pramudya Ananta Toer, an Indonesian writer, in his novel, 'This Earth of Mankind.' The excerpt has been quoted a lot; the 'an educated person' part' is often replaced with 'us' to make it more relevant for everyone. 
That excerpt has led Indah Darmastuti, a writer based in Surakarta, Indonesia, to the path she has pursued in the last several years: bridging the need for literature for visually impaired people. She has been dedicating her time, energy, and mind to creating ways for literature to be enjoyed by everyone through Difalitera, a platform providing audiobooks for literary works in Indonesian.
That night, after returning from work and attending an event, Indah shared her stories with Green Network Asia. "I'm sorry. Have you been waiting long?" she asked while entering a coffee shop in Kartasura, a part of Surakarta city where we had agreed to meet. After ordering food, Indah sat and told long stories in manners that are akin to reading someone a novel, with music from the café blaring not-so-quietly in the background.
Providing Audiobooks for Visually Impaired People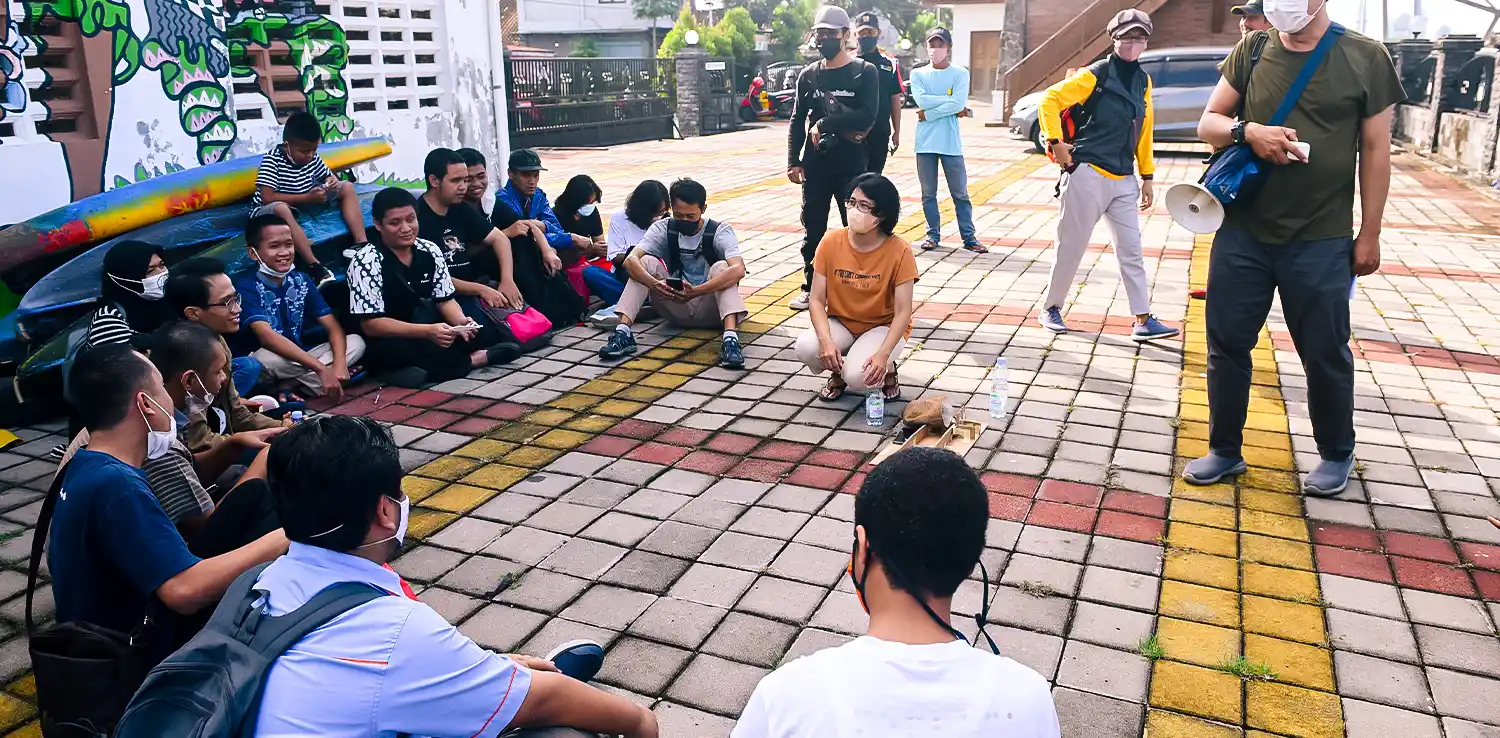 Indah's journey in building Difalitera started in June 2016. During a literature event in her hometown, Surakarta, a visually impaired college student who was also speaking at the event shared the challenges and difficulties in accessing reading materials.
"The student said there are literary books written in Braille, but there aren't many. E-book reader applications also exist, but the intonation is too stiff," Indah recalled. "At that time, I hadn't really understood [about the issue]. Even after the event ended, I was still oblivious. It wasn't until a few weeks later, when I watched the recording of the event, that I realized that literature hasn't been paying attention to the needs of visually impaired people. Meanwhile, Pram [Pramoedya Ananta Toer] said we should act justly with our thoughts."
Upon realization, Indah's days were restless. However, she couldn't think of a way to bridge the needs of visually impaired people for accessible literary works. Even after months had turned into years, Indah hadn't found the right solution.
One day, four students from Sebelas Maret University in Surakarta contacted her, asking permission to turn one of her short-story collections into an audio format. When she received the recording of the students reading her work, Indah felt a spark of interest to explore this area further. This moment eventually inspired Indah to create the Difalitera audiobooks.
"Because reading is a personal experience, it's crucial, and also a challenge, to explore the reading style, tempo, and intonation to make the stories more alive," said Indah.
After grappling with the concept and looking for partners to assist her, Difalitera's first audiobook was released on July 1, 2018. Difalitera's website followed suit, launched on November 10, 2018. Aside from short stories, Difalitera also provides audiobooks on children's stories, poems, geguritan (poems in the Javanese language), cekak (short stories in the Javanese language), short stories in English, and other short stories in many different languages.
"Actually, there are many audiobook services out there. Difalitera wasn't the first. But, Difalitera tries to be accessible for everyone, everywhere, and every time, free of charge," said Indah. "What makes Difalitera different from other audiobook services is the partiality for people with disabilities. From the beginning, Difalitera was intended for people with disabilities. So, everything has to be accessible, from the progress to the website. Even though it's dedicated to visually impaired people, I also try to embrace people with other disabilities to produce these audiobooks."
Challenges in Building Difalitera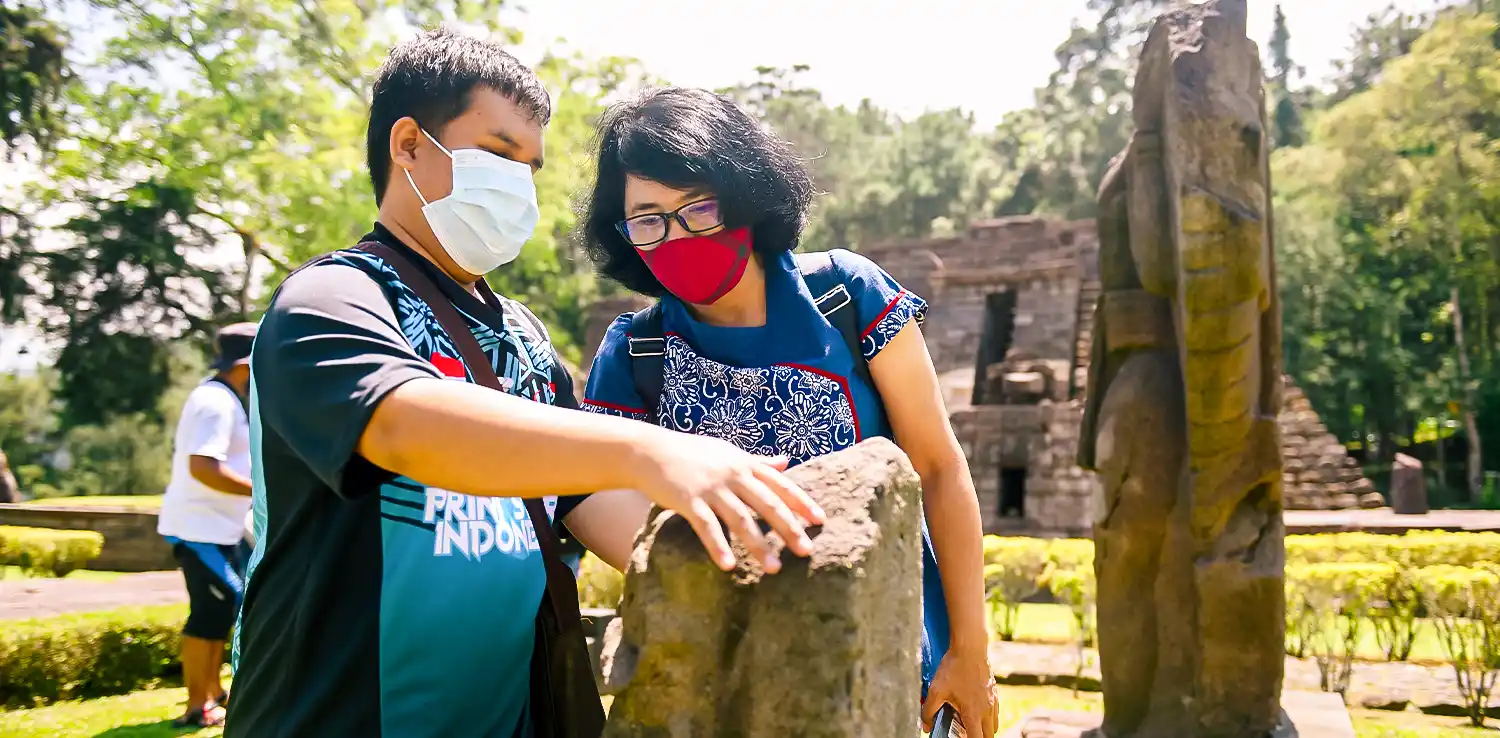 Indah's journey to build Difalitera hasn't been smooth sailing. A year after Difalitera was launched, Indah felt hopeless trying to keep her team consistent. "I was frustrated. I spent a lot of time thinking, until late at night, about how to continue this [Difalitera]," she reminisces. "Eventually, I said to God, 'God, I can't do this anymore.' I gave up."
However, not long after she declared giving up, the universe put Indah back on the path she had been fighting for. "Someone messaged me on Instagram. It was from Daeng Maliq, from Makassar. He said he had retinal detachment, which impaired him visually. In his message, he said that Difailtera's website benefited him. I was surprised. I had given up. Why was I being directed back to this path? I told God, 'If this is what I must do, help me God.' After that, the road became a bit smoother. Many came to help Difalitera. Per my friends' suggestions, I signed Difalitera up as a legal entity," said the woman born on March 12, 1973.
As Difalitera became increasingly steady, the number of people involved also grew more consistently. Even though they lived in different places and most hadn't even met yet, converting literary texts to audiobooks ran quite well.
"Many of my friends were willing to be narrators. There are radio announcers, writers, and many more. I'm delighted. They come from Purwodadi, Makassar, Bulukumba, Bima, Biak, Kalimantan, Padang, Aceh, and several other cities in Indonesia. There are also friends from England. Our working rhythm also flows from recording to editing and mixing the music. A few narrators also have physical disabilities. So, this is from one person with disability to another," said Indah.
Creating Audiobooks in Local Languages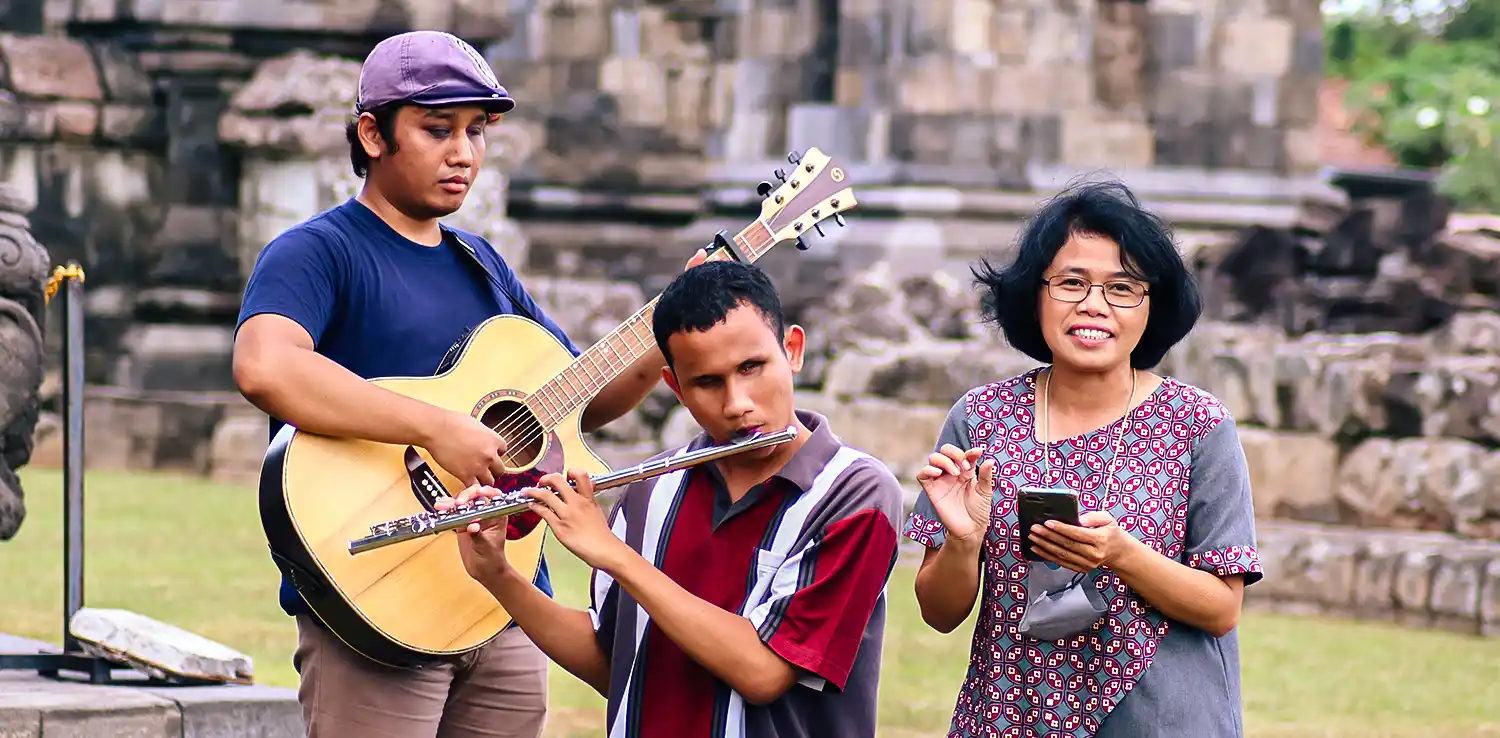 In 2020, Indah began to work on audiobooks with local languages and created a special channel called Sastra Suara Bahasa Nusantara (=Nusantara Languages Audio Literature) on Difalitera's website. She wanted to introduce various local languages in Indonesia to visually impaired people and support the efforts to conserve local languages that are on the brink of extinction.
In its third year of running, there are approximately 32 audiobooks in various local languages across Indonesia.
"Difalitera provides geguritan and cekak [short stories and poems in Javanese]. Then I thought, there are many other literary works in local languages besides Javanese in Indonesia. From that point, I started to accommodate other local languages in Indonesia to reach more visually impaired people across the nation, to bring them closer to their mother languages," said Indah.
Indah knows that there are more than 700 local languages in Indonesia. So, her and her team continue to look for literary works in local languages to be converted into audiobooks.
To give appreciation to the contributors, Indah often allocates a portion of her paycheck as a worker in a batik company. "I often give them money to pay their internet bills," she said.
Becoming Friends with Visually Impaired People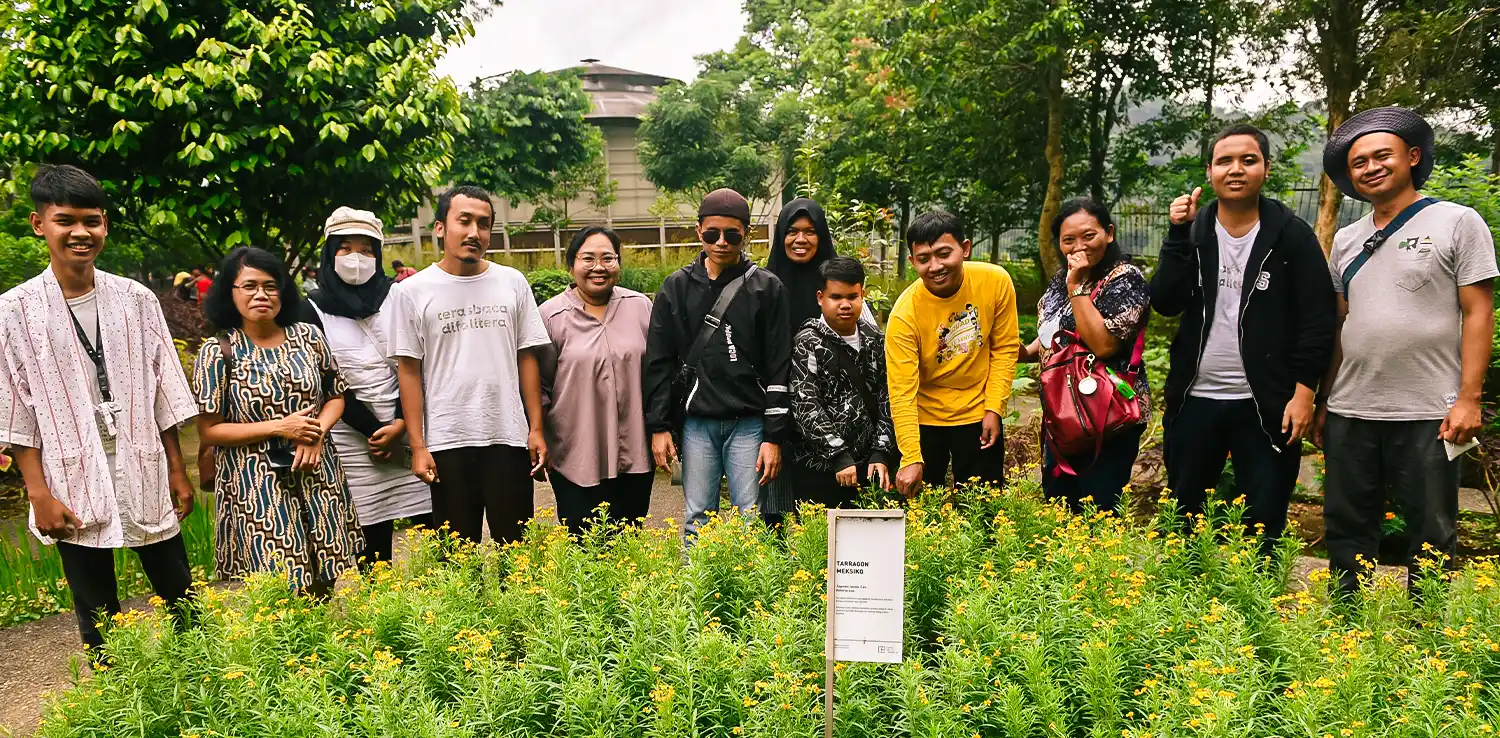 Aside from building Difalitera to be accessible for everyone and free of charge, Indah also established a small community of visually impaired people called Teras Baca Difalitera (=Difalitera Reading Terrace). Through this community, Indah routinely reads longer literary works for the community members in Surakarta and surrounding areas.
"Difalitera doesn't provide novels yet, even though novels are important. So, I read novels for visually impaired friends offline. In the beginning, I read them a book titled 'Canting' by Arswendo Atmowiloto. It contains the ambiance of Solo [Surakarta], so it's connected to their lives," said Indah.
To be accepted in the community of visually impaired people, Indah had to prove her sincerity by reading them stories. She tried to be their friend by visiting every weekend and bringing food to snack while they listened to the stories.
"They live in a dorm at Yayasan Kesejahteraan Anak-Anak Buta (= Blind Children Welfare Foundation). They come from Trenggalek, Tulungagung, Boyolali, even Sumatra. Every time I arrive, they welcome me, 'Ms Indah has arrived! Ms Indah has arrived!' I feel delighted. They're like a family to me," said Indah.
Aside from reading novels, Indah also invites the community members to visit public places. Some of the places are Sukuh Temple, Plaosan Temple, Balekambang Park, Lokananta Museum, Loji Wetan, Central Java Cultural Park, Omah Petroek, and Atsiri House.
"As time passes, I also want them to learn how to write so that they can do more than just listen to stories. So, I invited them to visit public spaces to broaden their knowledge so that they could get ideas when writing. I want them to have knowledge, which wouldn't be enough just by listening to novels," said Indah.
"There are several children who ended up wanting to write. They write poems, flash-fiction, and stories about their experiences while joining Difalitera's activities. It's like a field note. Their writings are good, and the writings are planned to be published by the Maysanie Foundation," Indah continued.
Indah also encourages visually impaired people to learn things beyond reading and writing. One of them is crafts. "I also encourage them to try making pottery, to introduce shapes to them. Their crafts are cute, and they have very cool imaginations. We visited Rumah Atsiri [Atsiri House] to train their sense of smell. They were thrilled. It moved me," said Indah, her voice shaking slightly.
Interacting with many visually impaired people develops Indah's understanding of their conditions. She grows into loving them more. "Sometimes, some children go out with their parents but can only sit and wait while their families take pictures. That's why they were very happy when I brought them to explore public places," said Indah. Her voice got increasingly shaky. "If that's the case, how could I ever leave them?"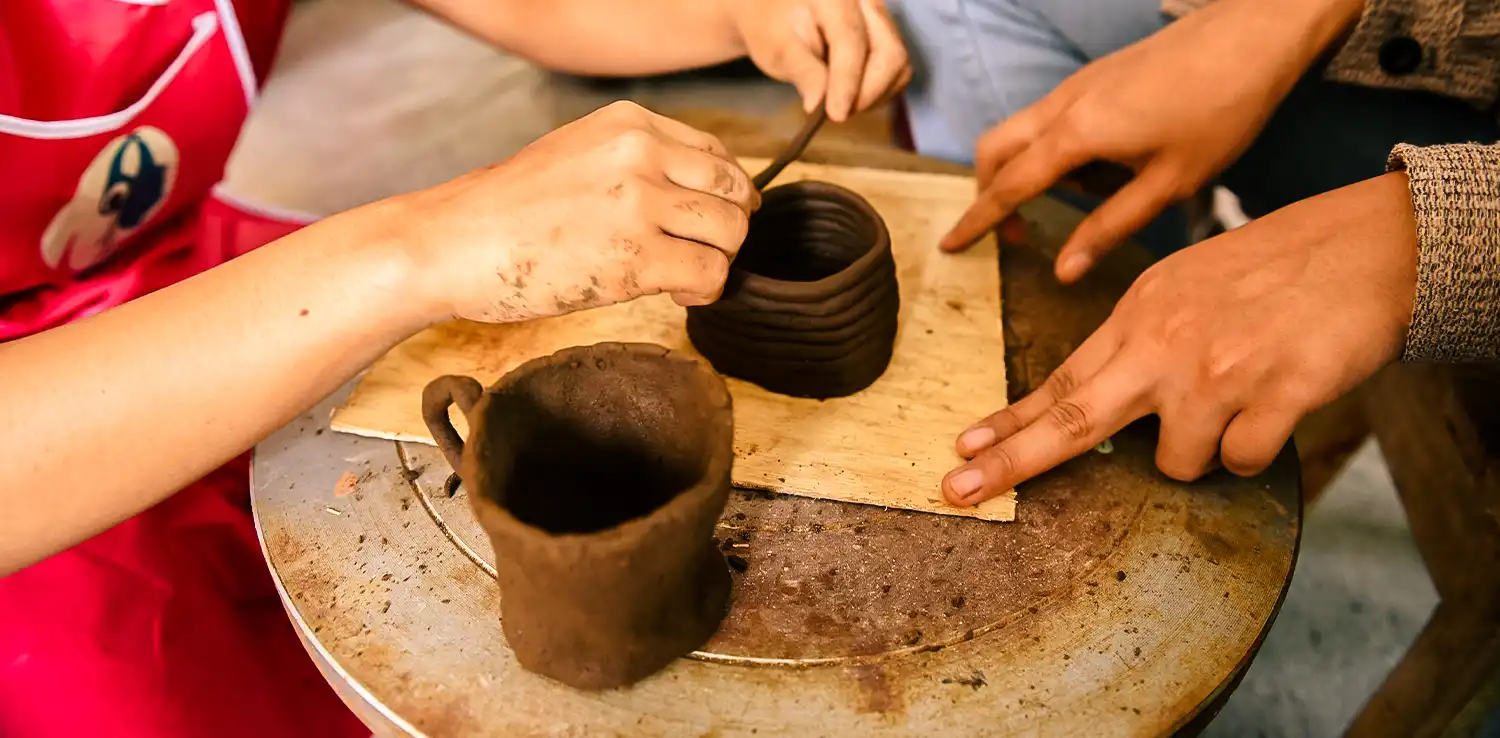 Indah Darmastuti on Making Literature More Inclusive
Literature can be an effective channel to deliver messages on diversity and inclusivity. However, to achieve that, the people involved in the literary world, from writers to publishers to bookstores, must also be inclusive.
"I see that the development of technology and literature are equally rapid. It's just that sometimes, we forget that some groups still can't access [those developments] as easily as other people. While there are technologies that can support them nowadays, the reality is that literary works still aren't accessible here and there. This is the issue that we must overcome together," said Indah.
Therefore, making literature more inclusive needs participation and support from many parties beyond the core people involved in the literary world. Difalitera, Indah admitted, also needs that support.
"Difalitera's team are all volunteers that don't get paid, so sometimes our work timelines are uncertain. I, too, sometimes get overwhelmed due to my activities. The truth is, we need support from many people, from psychologists willing to lend their ears to visually impaired friends, musicians, artisans, teachers, and many more. Beyond money, we need support from these people. This is if we really want to make literature inclusive. It's a big challenge, and I can't do it alone," Indah concluded.
Translator: Kresentia Madina
Editor: Nazalea Kusuma
Read the Indonesian version of this article at Green Network Asia – Indonesia.
Thank you for reading!
If you find this article insightful, subscribe to Green Network Asia's Weekly Newsletter to stay up-to-date with sustainable development news and stories from multistakeholder communities in the Asia Pacific and beyond.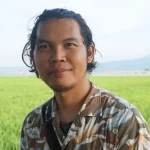 Amar is the Manager for Editorial Indonesia at Green Network Asia. He graduated from the Master of Philosophy program at Universitas Gadjah Mada and Bachelor of Communication Science at Universitas Sumatera Utara, Indonesia. He has ten years of working experience in journalism as a reporter and editor.