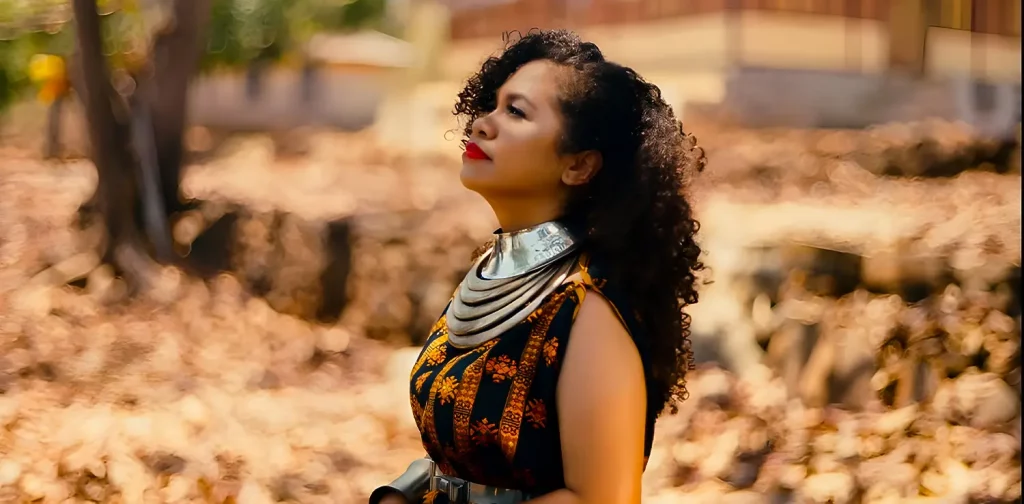 Weaving is one of the world's oldest traditions that exists in many cultures, including Indonesia. Unfortunately, the weaving tradition is fading out along with the times. In Indonesia, specifically the East Nusa Tenggara Province (NTT), this concern is intertwined with socio-economic issues like poverty, malnutrition, and the lack of job opportunities. These issues disproportionately affect rural women due to unequal access to decent work. 
This situation concerns Hanna Keraf, a young entrepreneur who is one of the founders of Du Anyam. Du Anyam is a social enterprise that aims to empower and improve the quality of life of local women through making woven handicrafts. Equipped with her business knowledge, Hanna hopes to empower the women of East Nusa Tenggara by reviving the local weaving tradition. 
Reviving Weaving Tradition
Hanna's journey to empower the women of NTT began in Maumare, Sikka Regency, in 2012. At the time, she was working at Yayasan Sahabat Cipta and Swisscontact. She saw how Maumere was rich in natural resources. Yet, its people couldn't even enjoy them because everything was sold to other places.
"For instance, there was a production of natural forest honey in the forest conservation. We asked the locals if they drank the honey. They said no. How? I think the locals should be the first to get a taste of the honey before selling it outside," recalled Hana.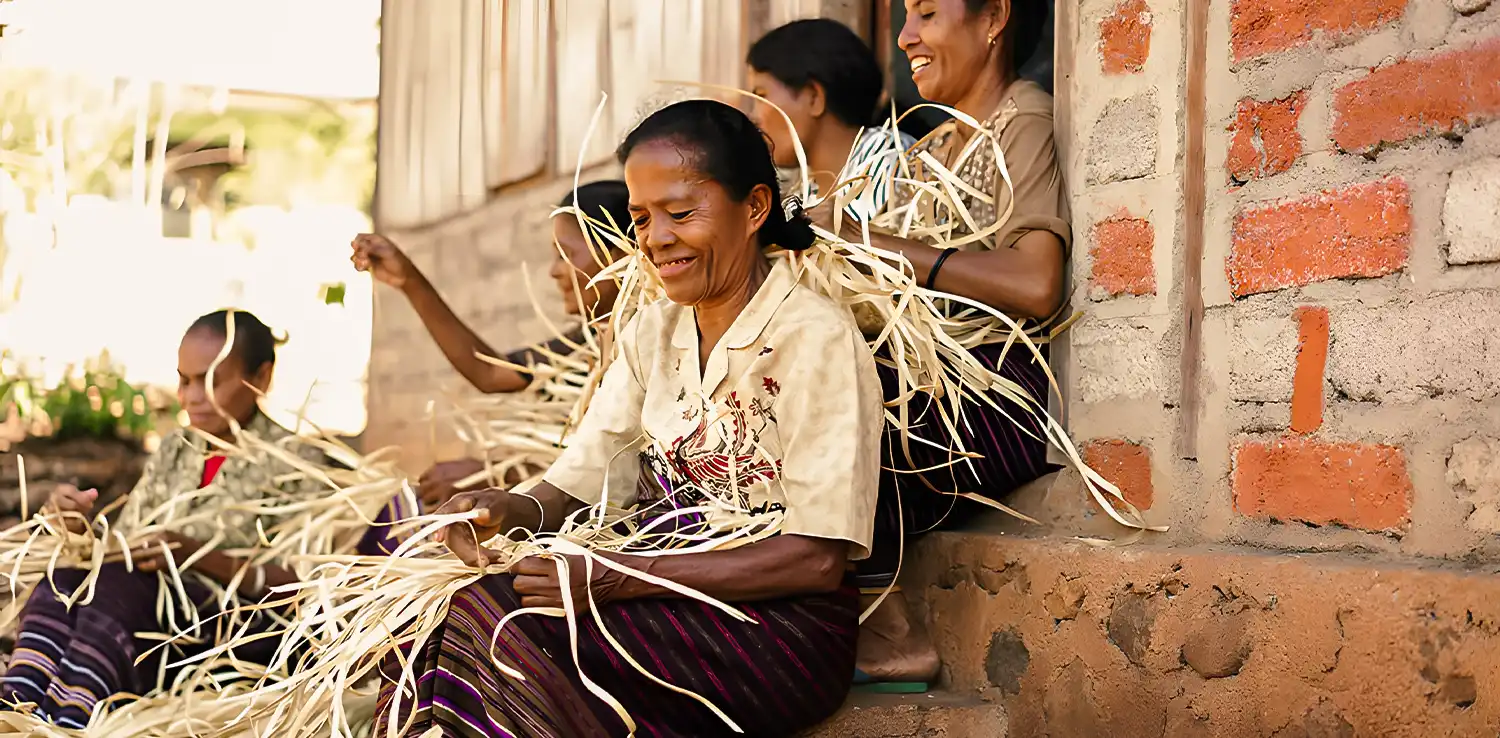 In her journey, Hanna kept encountering similar problems in which the richness and potential of an area failed to result in prosperous local communities, such as the woven handicrafts made of lontar leaves by the women of Sikka. Lontar is Borassus flabellifer, a type of palm native to Indonesia. Hanna observed and figured out what factored into this issue: the lack of coordination and innovation among the artisans, limited access to the market, and an inefficient supply chain. 
Along the way, Hanna slowly started building a network of hundreds of weaver women. She named it Du Anyam, meaning 'Woman Weaves', from the Sikka language. Hanna Keraf guides the local weaver women to hone their skills and innovate to create various woven handicrafts that are functional and aesthetically pleasing. 
Every month, the women of Du Anyam can create hundreds of varying woven handicrafts made of lontar leaves. Among the handicrafts are handheld fans, baskets, hats, wallets, sirih pinang (areca nut wrapped in a betel leaf) containers, sobe (cylinder-shaped bags), dese (rectangular bags), lepa (crossbody bags), keleka (rice sieve trays), and monga (plates). 
From this point, the lontar leaf weaving tradition in NTT is starting to come back to life, and the artisan women can earn their incomes. Through Du Anyam, Hanna turns the weaving tradition from something with only cultural values to a source of income for local women. 
"It's about how women can utilize their skills using local materials to make something worth selling. That's how simple the idea is," said the entrepreneur, born on December 14, 1988.
Empowering Women Through Du Anyam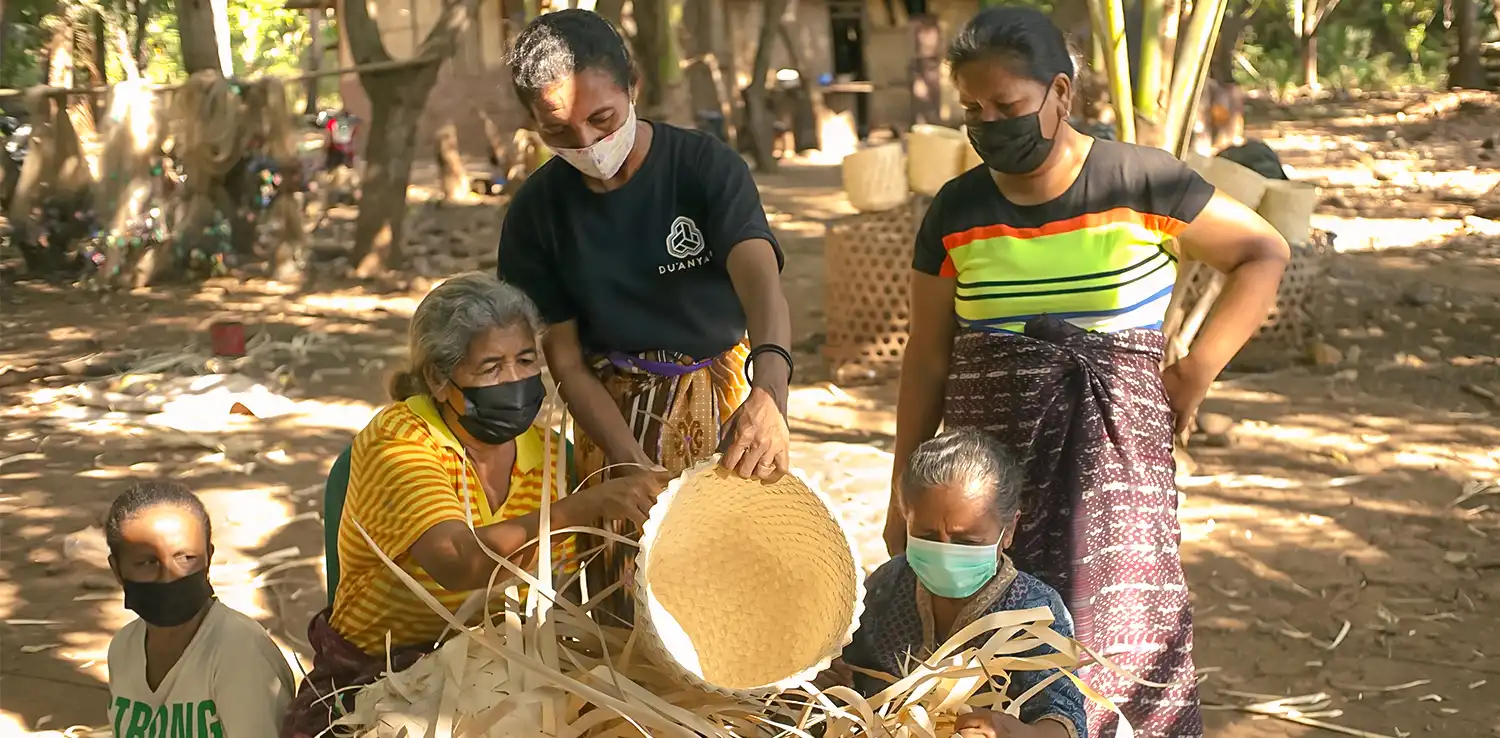 From Sikka, Hanna moved to Lembata and East Flores Regencies in 2014. With two friends, Azalea Ayuningtyas and Melia Winata, she expanded Du Anyam into a bigger and more sustainable social enterprise. What began with small groups in five villages now has become the Du Anyam that reaches about 1,400 weaver women in 32 villages in East Nusa Tenggara and Nabire (Central Papua). 
Besides raising the quality and image of weaving, Du Anyam guides the weaver women to sharpen their weaving and business skills. It also helps them sell their handicrafts all over Indonesia and even abroad. Some of their woven handicrafts were introduced in international events, such as the Asian Games 2018 and ASEAN Summit 2023. The income earned makes the women of Du Anyam more independent and empowered. 
"The end goal is to make them more independent, becoming entrepreneurs themselves, with their end-to-end skills. Starting from making the products to selling them, including having the storytelling skills to help sell their products. In the end, some of them become trainers. Some become the leaders of their communities, the managers of the credit unions, the village chiefs, the neighborhood heads, and others. They occupy leadership positions where they can do a good job of relaying information. This capacity development is what makes me the most proud," said Hanna, who graduated from International Business Studies at Ritsumeikan University in Japan. 
The creation of Du Anyam is not limited to the issues of women's empowerment and preserving the weaving tradition. Beyond them, Hanna Keraf also sees how local youth aren't taking a role in advancing the local economy. When they feel that their potential isn't fully cultivated, most rural youth choose to work in the cities. Hanna believes this problem arises due to the lack of ability to translate and utilize information. 
She said, "I think this challenge exists in rural areas everywhere, not just in eastern Indonesia. Moving out of the area becomes the easiest option to better their economic standing. One of the main reasons is that often, there isn't enough job opportunity there. What opportunity there is usually requires high education, then they end up competing in a system far from ideal." 
To Lepironia and Peatlands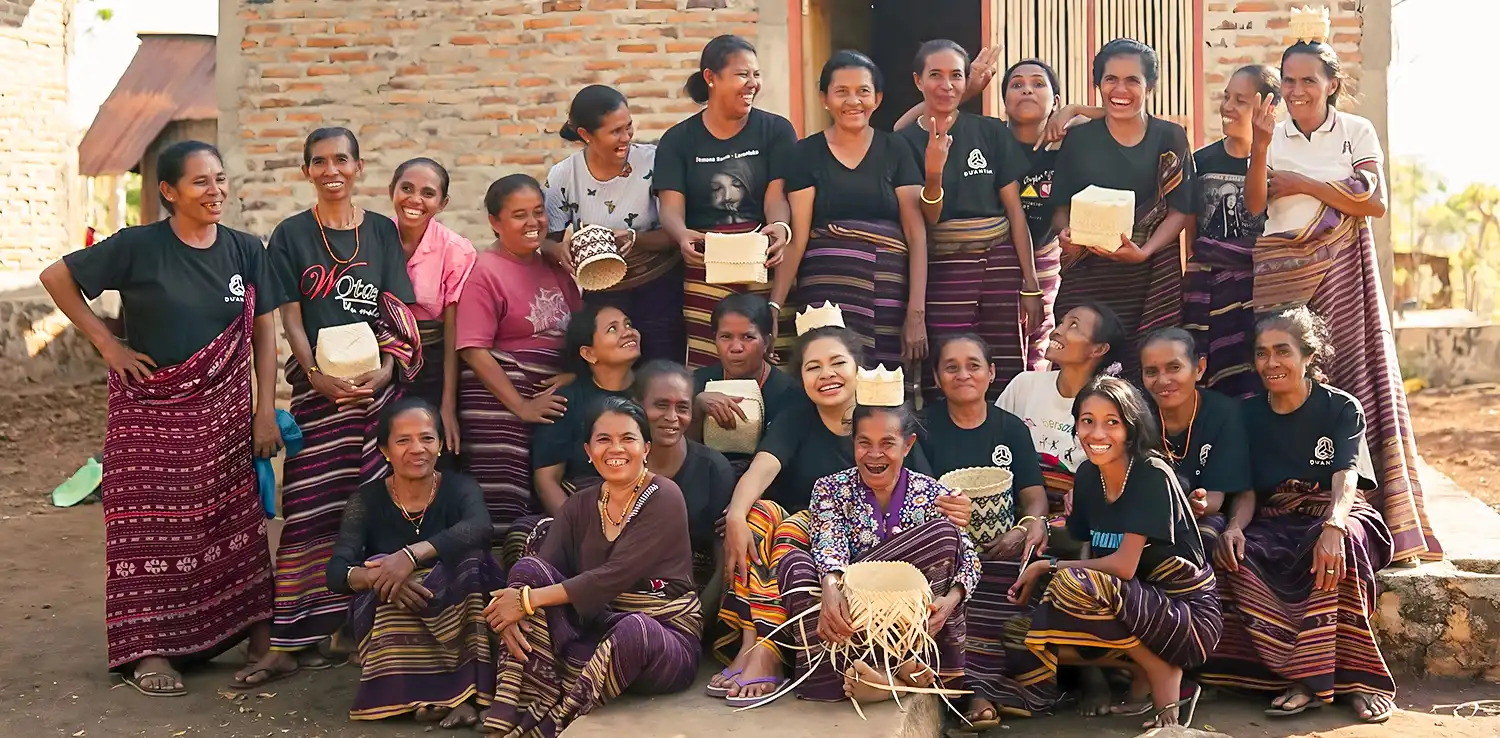 In 2020, Du Anyam spread its wings to South Kalimantan Province, turning lepironia plants into woven handicrafts. Lepironia, also known as the gray sedge, is a plant that grows wildly in peatlands and is often used as handicraft material.
This business venture walks hand-in-hand with peatland conservation efforts, collaborating with Badan Restorasi Gambut (Peatland Restoration Agency), focusing on fire prevention, misuse, and land conversion. To contribute, Du Anyam has developed a community-centered production system for lepironia woven handicrafts that involves locals as the primary keepers of peatlands.
"The hope is that the local communities can become 'the police' and, simultaneously, reap the benefits of the peatlands," said Hanna.
In 2021, Hanna also started developing Krealogi, an app to help SMEs improve their skills. Krealogi goes beyond weaving. It also includes other products made by local communities in rural areas.
"The products come from ultra-micro and micro enterprises in remote areas. There are chips, tenun (an Indonesian traditional type of weaving), batik, and others. So, they're quite varied. We hope to tackle the challenge of micro businesses competing with medium-sized businesses," Hanna shared.
However, not everything goes smoothly. Hanna and her team face some big challenges, one of which is ensuring sustainability across the supply chain. Other challenges include data recording, uneven skills among artisans, and each village's cultural traditions and beliefs.
"When there's a culturally relevant traditional event such as death, birth, or wedding, production halts," Hanna laughed. "Ultimately, we have to take industrial technique approaches like time and motion study that we adapt and translate to fit the local wisdom."
Hanna Keraf and Opportunities Gone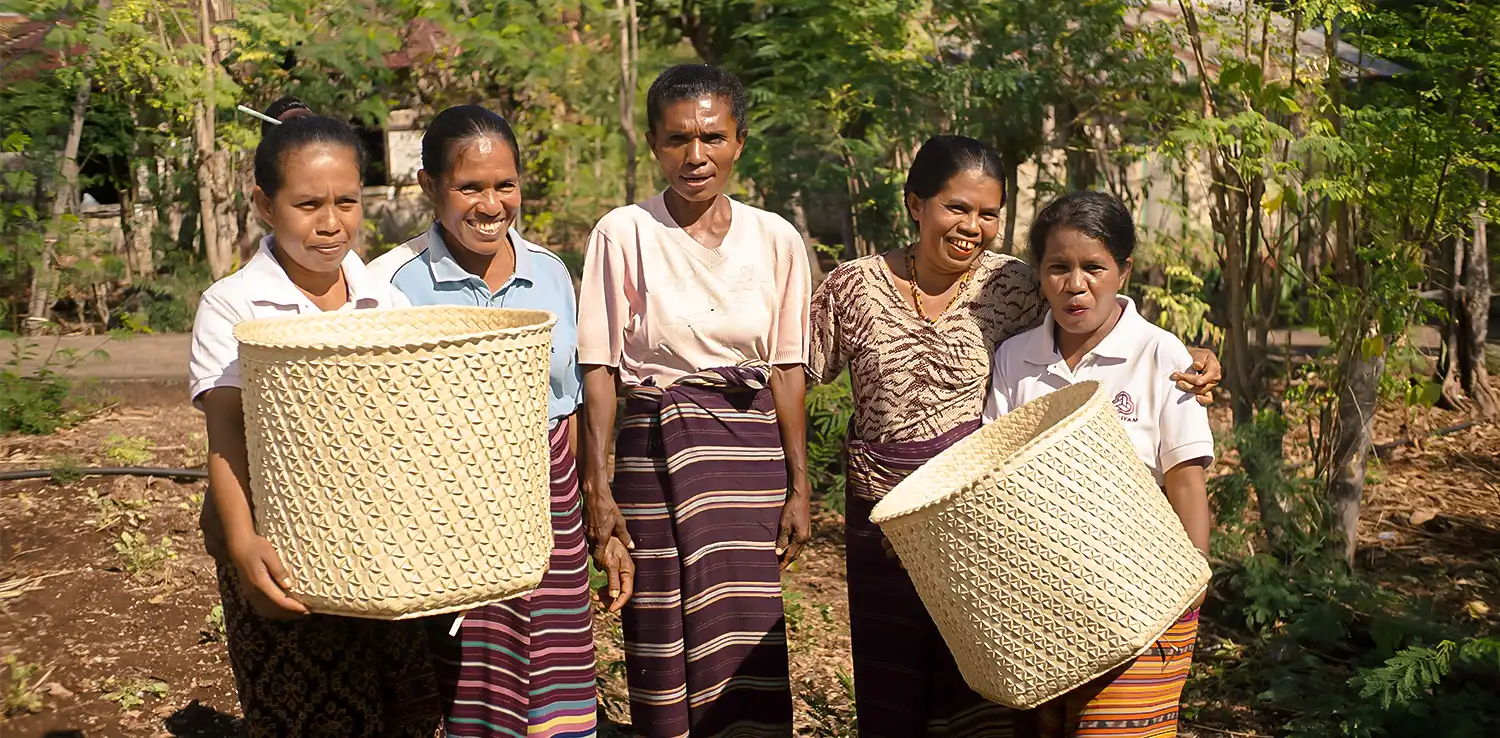 Besides reviving the weaving tradition and empowering rural women, Hanna also supports the local communities in Flores and Lembata in other ways. For example, she organizes scholarships for children in these regencies from donors. Until August 2023, more than 400 elementary school to university students have received scholarships. 
She also looks for donors to support kids studying and women weaving at night and give out balanced meals to help end stunting in East Nusa Tenggara. 
Of course, there have been things to sacrifice in Hanna's journey. When she decided to go to NTT and try to revive the weaving tradition, she forewent a scholarship for a master's degree abroad. Sadly, her path does not meet her parents' expectations of working in big companies overseas. 
"There were some opportunities I ended up not taking. And actually, I was directed by my parents to go to Tokyo, Singapore, or, yeah, somewhere abroad. But I wanted to contribute to East Nusa Tenggara, which became the biggest reason to stay and work in Flores. I was inspired by my own family. My family used to be poor fishermen who then broke out of poverty thanks to education," said the daughter of Sonny Keraf, the former Minister of Environment. 
As a woman, Hanna couldn't deny the 'different' treatment she receives in her endeavors. However, it never stops her because she always believes women have the same potential and power.  
She said, "I'm often compared to young male entrepreneurs. Especially with how Indonesia is still a patriarchal society. At the end of the day, because I have a massive responsibility as a leader, I must adapt. As women, I and other woman leaders have to show ourselves as examples of good leaders so the women who work with us can see it's possible."
To close, she added, "Indonesia is rich. There are so many different hyperlocal contexts from each region. A solution that might work for all areas is involving men in women's empowerment efforts. Men must want to admit that women are capable. If not, there will always be a stumbling block when women are to play their roles in society. Then, we need to focus on developing these rural areas based on their local contexts so the local women can grow and develop while also advancing the local economy."
Translator: Nazalea Kusuma
Read the Indonesian version of this article at Green Network Asia – Indonesia.
Thank you for reading!
If you find this article insightful, subscribe to Green Network Asia's Weekly Newsletter to stay up-to-date with sustainable development news and stories from multistakeholder communities in the Asia Pacific and beyond.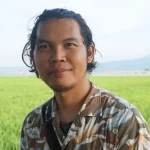 Amar is the Manager for Editorial Indonesia at Green Network Asia. He graduated from the Master of Philosophy program at Universitas Gadjah Mada and Bachelor of Communication Science at Universitas Sumatera Utara, Indonesia. He has ten years of working experience in journalism as a reporter and editor.