Our Audience
We have two layers of target audience, a more specific audience and the general public, as follow:  
#1 Specific Audience
We strategically reach an audience of multi-stakeholder communities in governments, businesses, and civil society, including policymakers (CXOs, directors, and heads of departments), experts, practitioners, activists, entrepreneurs, investors, journalists, and local communities.
Our multi-stakeholder communities have passion, enthusiasm, aspiration, and interest in sustainable development. They have power, influence, and potential in their respective fields and organizations.
We continuously create an ecosystem of shared value with our multi-stakeholder communities in governments, businesses, and civil society to solve problems and achieve collective impact in society.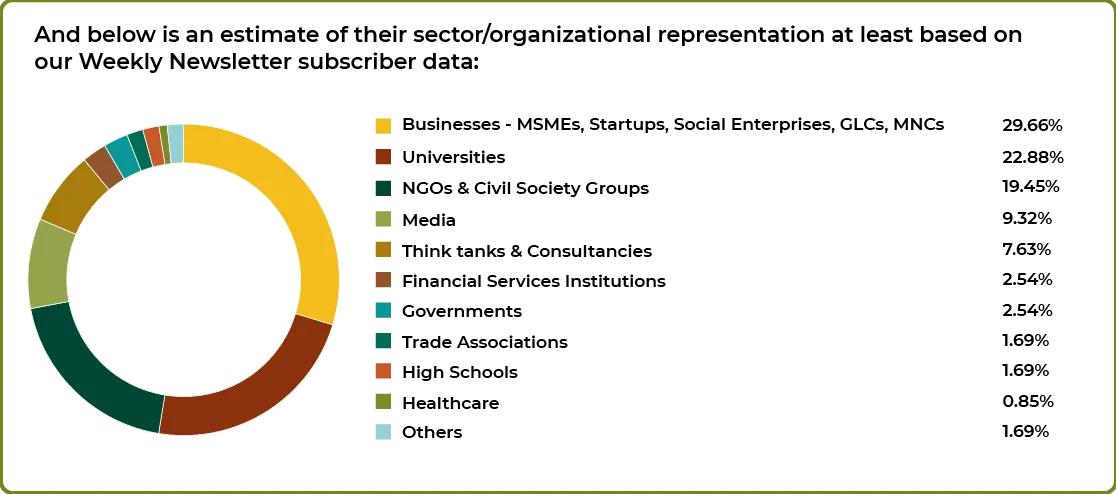 #2 General Public
We are proud of our inclusiveness and always determined to nurture the values of Diversity, Equity, and Inclusion. Apart from the above more specific audience, we ensure that our service deliveries reach the general public of different social and economic backgrounds in the Asia Pacific and beyond. We do it mainly by deploying digital marketing.
The general public represents individual citizens and customers whose knowledge and awareness are vital to mainstreaming sustainability on a large scale. Fortunately, we have the expertise to deliver high-quality content in a popular language style understandable to different communities. 
We are passionate about "leaving no one behind" in our education and advocacy efforts.
Our Offering
We offer strategic partnerships that deliver public affairs consultancy to support your sustainable development journey and initiatives through our integrated platforms.
Our Expertise
We use a combination of multidisciplinary approaches to help deliver potential solutions and achieve your mission in: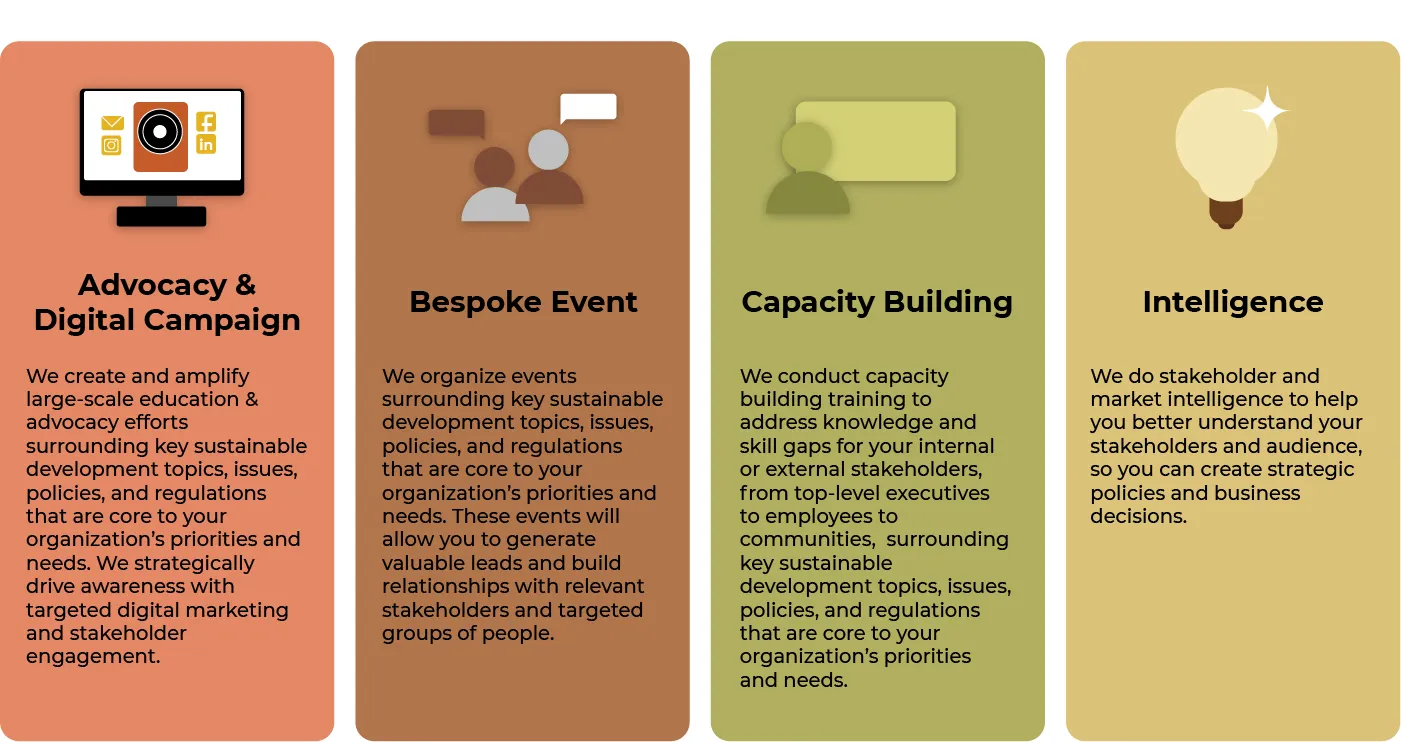 Our Packaged Products
Currently, we have at least three packaged products with customizable deliverables to help deliver potential solutions and achieve your mission. If you have different needs apart from these packaged products, feel free to let us know:

Download The Green Network Prospectus 
Learn more detailed information about our packaged products, customizable deliverables, high level work plan, project management structure, and how our team can support your organization and brand. 
The Green Network Prospectus
By downloading the Prospectus, you have agreed to our Terms of Service and Privacy Policy.
Partner with Us
We look forward to partnering with you and bringing your positive impact and thought leadership to life. 
Schedule an online Zoom meeting to discuss your needs directly with our team. Request for a business proposal (RFP) to elaborate on the various partnership options. 
Contact Us
Marlis Afridah
Founder & CEO | Editor-in-Chief
Email:
marlis@greennetwork.asia | asia.greennetwork@gmail.com   
Mobile: +62 822 2537 2855
Aliyah Assegaf
Manager for Partnerships
Email:
aliyah@greennetwork.asia | asia.greennetwork@gmail.com    
Mobile: +62 812 9464 6113
The Green Network Prospectus